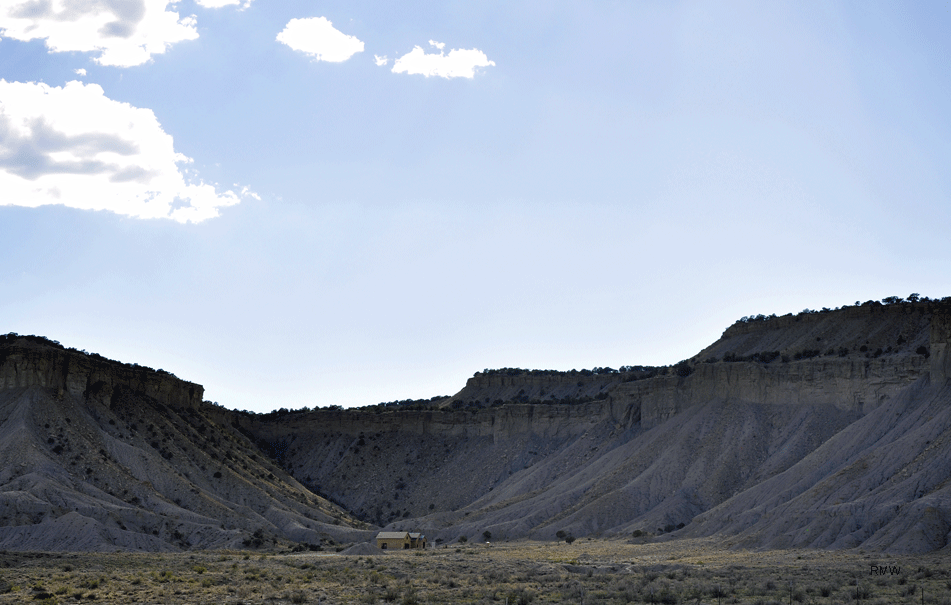 It's always there with people like us, just a touch below the surface. Take a fingernail and scratch my arm, and it's there ready to pop up and make trouble. I didn't used to be like this. I was always an upbeat person. Give me a challenge and I'll overcome it. The happiest I remember being is when my children were young and I was flat broke most of the time. Nothing could ever get me down for long. Nothing.
Then came the losses, one after another. My husband was first and then they came in regular succession, my beloved mother-in-law, my oldest son (the hardest by far), my mother and finally, my Dad. In there were also the loss of a well-loved mare and a dog who had been my friend and companion for 17 years.
Despite all of this, I held on. People would ask how I was doing, "Fine!" I'd say in an upbeat slightly brittle voice. I didn't dare cry because I knew if I started to cry I would probably never stop. I was, however, unbeknownst to me, beginning to melt. My bones, my heart, everything inside of importance was starting to shrink a bit. You couldn't see it from the outside, and it happened so slowly that I really didn't feel it, but it was happening. My natural state of optimism was slowly but surely being overwhelmed, obliterated, crushed and there was no stopping it. It was like a slow moving mud slide, determined to cover everything in it's path no matter how many sandbags I put in it's way.
"It lays in wait for the time when you think, it's fine now, I'm OK. Then the next thing you know, it's not Ok. Then you realize. Where am I? I didn't realize I was in Cleveland."
Robin Williams
Then, one night right before Christmas, a few years ago I was getting ready to leave work and I couldn't get out of my chair. I had, I'll admit, put on a few pounds over the course of this sad adventure I was on, but that wasn't the reason I couldn't get out of my chair – I just couldn't. I sat there a while and tried again but my legs just wouldn't work. I called to a friend/co-worker who came in, took one look at me and sat down on the other side of the desk and took my hands in hers. The only way I can describe it is that the mud slide had finally achieved its goal of completely covering me in darkness. My friend sat with me for a little while until I could function again. Slowly I revived enough to leave work and drive home, but the next day I made an appointment with my doctor. My regular doctor had already left for Christmas break, so her physician's assistant agreed to see me at the end of the day. I started off explaining how I couldn't get out of my chair and she looked at me with so much kindness that I felt like crying. She asked if I had been under any stress and that started it. I cried and cried and cried and cried. I couldn't stop, couldn't control myself. I was embarrassed and worried because I knew she had other patients to see, but just as I'd feared, once I started, I simply couldn't stop. She left a few times to see other patients, and I'd just sit there and cry. Finally, after what seemed like hours, I was able to compose myself enough to talk. She had the good sense to not try and get me to explain anything further, she simply handed me a prescription for an antidepressant and a sleep aid, gave me instructions on how to use them and told me to come back in two weeks so we could evaluate what to do next.
It was more like a month before I went back, but by then the antidepressant had kicked in and I was much better. I hadn't realized how little I was sleeping until I started using the sleeping pills. Just the fact that I started to sleep again helped a lot. I had the last week of the year off for Christmas break, so I slept, ate, visited with family and tried to get my feet back under me. By the time I went back to the doctor, there was a big improvement. And, except for a few little blips along the way, I have continued to improve. I'm so much better today. I've learned to cope with and understand certain triggers push me toward the darkness and either try to avoid them or compromise with them. No matter how good I feel though, the mud slide is always there, waiting. It waits for my son's favorite song to come on the radio, for my grandson to smile and look so much like his Dad I can't breathe, for a friend to lose someone they care about and through their pain, I feel my own all over again.
Don't feel bad for me though because I am truly ok for the most part and even though I wish those people were still with me, I have them in my heart and I'm a better person today because of having known them, loved them and lost them. I'm certainly more tolerant of other people's problems, other people's losses. I don't know the specific circumstances around the loss of our well loved funny man, Robin, but I do know how that mud slide of grief can feel. I guess what I'm trying to say in my own awkward way to anyone who might stumble by my little spot here on the internet struggling with depression is to simply go get help. Don't think about it, don't hesitate, don't wait for it just to get better on its own, don't try to muscle through it, just get help.
If you broke your leg, you'd get help. Why wouldn't you get help for a broken heart?
"You're only given a little spark of madness, don't lose it."
Robin Williams