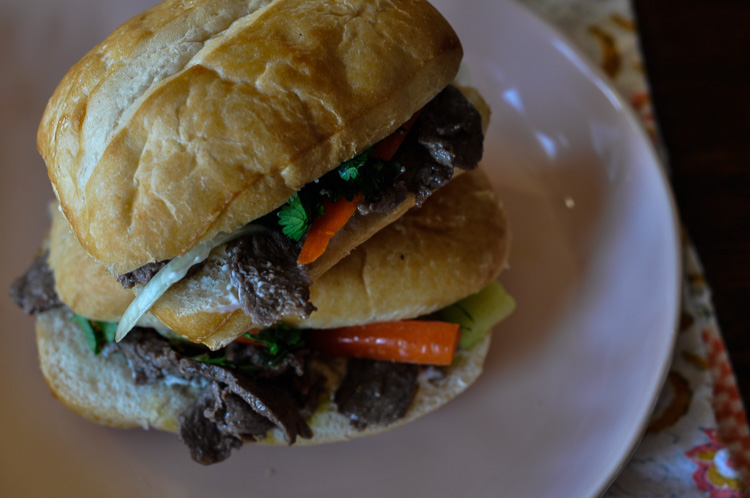 This is completely and totally not authentic, but really good all the same.   I scarfed this sandwich down with a glass of Rose' in about 3 minutes flat!  I love Banh Mi sandwiches, especially the egg sandwiches at a little restaurant in Salt Lake City called Oh Mai (if you are ever in the neighborhood, make sure to stop in, you won't be sorry).  Pickled vegetables are a relatively new thing to me, but I've embraced them with all my heart! Try these sometime for a real treat:  Pickled Peppers . 
This came together quickly and the sweetness of the pickles with the venison was perfect!

Venison Banh Mi
Author:
Rocky Mountain Woman
Ingredients
½ C rice vinegar
¼ C water
¼ C sugar
2 carrots, peeled and cut into sticks
1 large cucumber, peeled and cut into sticks
½ medium onion, peeled and cut into thin slices
½ lb of thinly sliced venison
salt and pepper to taste
sprinkle of garlic powder
2 T olive oil
4 rolls - sliced
4 T mayo
4 T chopped cilantro
pickled jalapenos
1 lime, cut into wedges
Instructions
Bring the rice vinegar, water and sugar to a boil over medium heat, stirring until the sugar is dissolved
All the mixture to cool
Pour the cooled mixture over the carrots, cucumbers and onions in a bowl, set aside
Sprinkle the venison with salt, pepper and garlic powder
Heat the olive oil in a heavy skillet and flash fry the venison for a few minutes, until cooked through
Slice and toast the rolls
Spread each roll with mayo, then add the rest of the ingredients
Squeeze a bit of lime juice over the sandwich fillings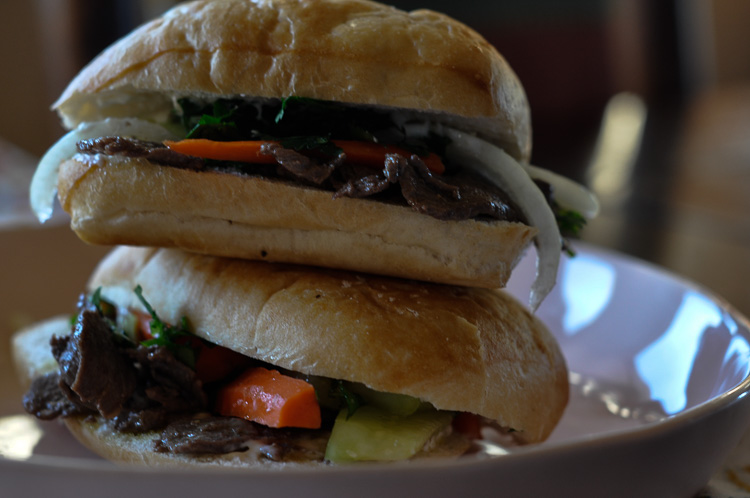 So good!
Adapted from a recipe on the All Recipes site.