I watched someone make something similar to this pepperoni roll on a cooking show with my boyfriend and because we are both carnivores and always on the lookout for ways to get more Italian meats into our diet, we decided to try making it ourselves. It was absolutely amazing! It looks harder than it is, and if you just aren't a yeast baking type of person, you can always buy premade pizza or bread dough and start from there. The bread dough is pretty easy though, especially if you have a stand mixer. Pepperoni Rolls are pretty popular in New York, but it was a whole new taste sensation to us here in Utah!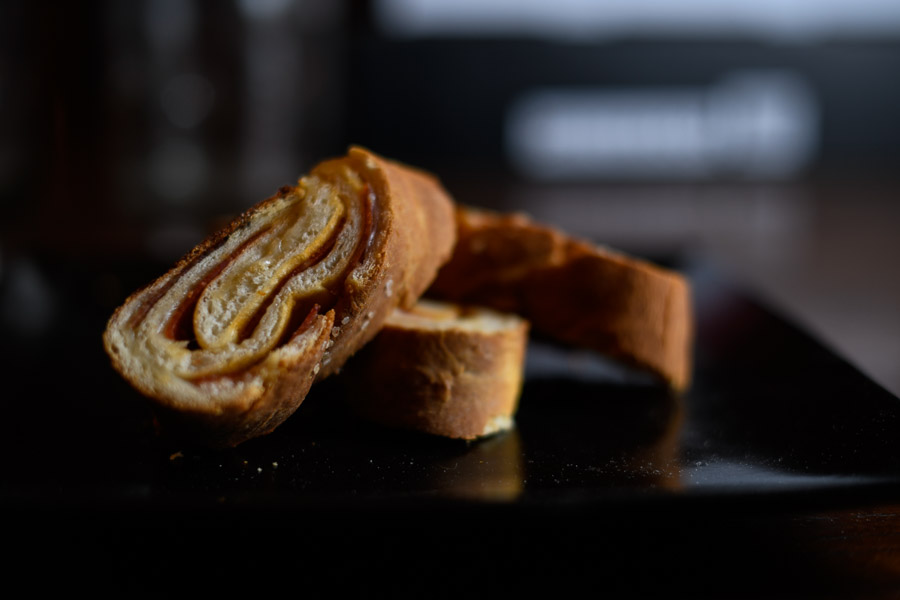 Print
Pepperoni Roll
A cheesy, gooey way to get more pepperoni into your life.  
5 C of flour, divided
3 T white sugar
1 .25 ounce package of dry yeast
2 t salt
1 1/2 C water
1/2 C milk
3 T butter
2 eggs
32 slices of provolone cheese
1 lb sliced pepperoni 
Instructions
Add 2 C of flour, sugar, yeast and salt to the bowl of a stand mixer or a large mixing bowl
Combine water, milk and butter in a saucepan over low heat until warm 
Gradually pour into the flour, either mixing it on low speed in the mixer, or mixing it by hand in a large bowl
Combine well, adding remaining flour until a soft dough forms
Either switch to a dough hook and knead until smooth – about 5 minutes or pour out onto a floured surface and knead until smooth – about 10 minutes
Place dough in a lightly oiled bowl and turn to coat
Let rise until doubled, about 1 hour
Punch dough down and turn onto a floured surface, cut in half returning one half to the bowl
Roll dough into a 12 – 16 rectangle 
Arrange half of the provolone and pepperoni on the dough 
Starting at the edge closest to you carefully roll dough up
Beat the eggs with a small amount of water and brush the seams, pinching to close
Place loaf seam side down on a cookie sheet lined with parchment paper
Repeat with the other half of the dough
Let loaves rest, covered with a kitchen towel for 30 minutes
Uncover loaves and brush all over with remaining egg wash
Bake in a preheated 350 degree oven for 30 to 35 minutes, turning once during the baking
Let cool for 15 minutes before slicing 
This recipe came from Sloppy Chef by way of Allrecipes. We loved it and I'd bet you will too!