It's been a little weird out here in the boonies. Because of the fire, our water level has been very low and then a few nights ago, the main water line for our subdivision broke sending 257 thousand gallons of water down the mountain! It washed out part of the road and completely emptied our tank, so since Saturday I've been waterless which has really made it difficult to cook.
Anyway I love this savory dish that I made a few weeks ago.  It can be a main dish salad or side salad or it's great to take to a potluck.  It can go pretty much anyway you want it to!  It's easy to put together and pretty impressive looking, if I do say so myself.
Print
Quinoa Salad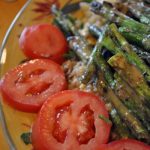 Scale
Ingredients
1

lb asparagus
olive oil

2

C quinoa

1/2

lb goat cheese
fresh parsley

2

T red wine vinegar
can of large olives

1

large tomato
kosher salt
pepper from the mill

1/4

C sherry vinegar

1

T Dijon mustard

1

dried chili, crushed

1/2

C pitted olives

1/2

C olive oil
Instructions
Make the vinaigrette:
In a blender mix sherry vinegar, dijon mustard, pinch of salt and a grind or two of pepper, crushed chili pepper, olive oil and the 1/2 C of pitted olives
Blend until smooth
Trim the asparagus, cutting the spears in half and drizzle with olive oil (a few T should do it)
Sprinkle with kosher salt and a few grinds of the pepper mill
Bring 8 C of water to a boil
Add quinoa and cook according to directions on the box
Heat up the grill or broiler and cook the asparagus for a few minutes on each side
When the quinoa is ready, rinse it thoroughly, let it drain, pushing down on it a bit to get all of the water out
Place quinoa on a large serving platter, sprinkle with red wine vinegar and mix thoroughly
Mix in 1/2 of the vinaigrette
Sprinkle with the goat cheese, olives and chopped parsley
Place the grilled asparagus on top and garnish with the tomato
Sprinkle the rest of the vinaigrette over the asparagus and tomato
I served this with a New Zealand Sauvignon Blanc, grilled chicken and crusty bread.
Adapted from a Bobby Flay recipe.