The weather is cold and rainy and I am in full on comfort food mode.  Red Beans and Rice is one of my all time favorite ways to warm up after a long day.  This version is a little spicy, but not too spicy and has some nice veggies, but not too many veggies, some meat, but not too much meat.  In other words, it's just right.  I love it and I'll bet you will too!
Print
Red Beans and Rice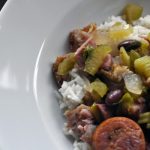 Scale
Ingredients
1

lb dried small red beans

1

lb Andouille sausage – if you can't find it, any spicy sausage in casings will do

4

large ham hocks

2

C celery, chopped

2

C onion, chopped

2

large Anaheim peppers, seeds removed and chopped

2

t oregano

2

t dried thyme

2

t garlic powder

1

T red pepper flakes
salt and pepper from the mill to taste
couple of good dashes of Tabasco

4

C of cooked rice
Instructions
Rinse the beans thoroughly and pick out any that are broken
Soak overnight and cook according to package directions if you live in a normal place
Cook in the pressure cooker if you live at a high altitude
Simmer the ham hocks in enough water to cover at low heat for an hour or so
Add the rest of the ingredients (except the rice & beans) to the pot and simmer for another hour, stirring occasionally
Add the beans and simmer another hour
Remove the ham hocks and cut any meat remaining off, chop coarsely
Slice the sausage and add to the pot with the meat from the hocks
Simmer another hour or so
It seems like a lot of work, but it really isn't too bad.  It needs a lot of time sitting on the stove, simmering away and filling your house with the most amazing smells!  I love the way my house smells when I'm cooking this and leftovers are so good the next day.  This is one of those recipes that is totally worth the effort.  Keep an eye on the water level in the pan and add a little more if necessary to keep it simmering.
Serve on white rice

I had mine with a glass of Cline Zinfandel (my go to wine when I'm not sure what to serve) and a hunk of French bread…