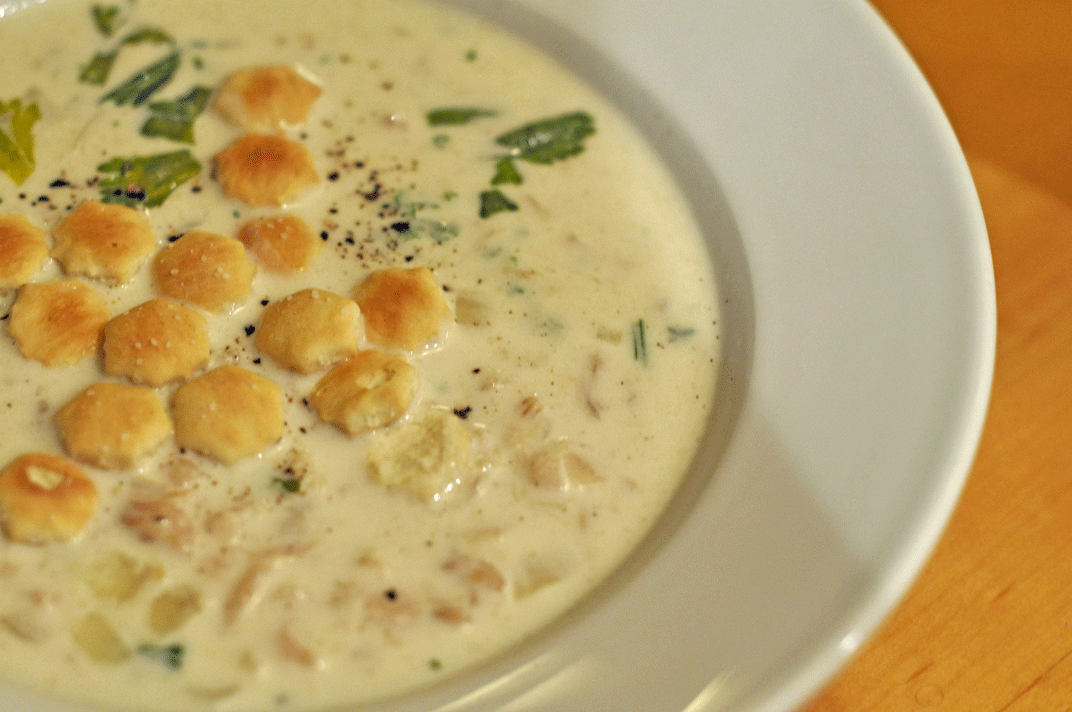 I came home from Oregon with a couple of large cans of diced clams. Typically I use them to make a thick, rich clam chowder full of butter and heavy cream. This year I decided to try and lighten it up a little. It's still pretty decadent, but not as crazy rich as I usually make it (the original version could stand in for clam dip if you served it chilled).
Instead of complaining that the chowder wasn't as good as it usually is, my friends and family actually said they liked the lightened up version more than they did the heavy cream version. It is definitely more of a broth than a cream, although it has plenty of richness.
Here's how I made it:
Print
Clam Chowder
1

large onion, diced

2

stalks of celery, diced

2

T olive oil

2

T butter

4

T flour

1

small bottle clam juice

2 cups

half n half

1 cup

whole milk

1

t dried thyme

1

large can of diced clams (

51 oz

)
bay leaf
kosher salt and fresh ground pepper

1/4 cup

chopped parsley
Instructions
Saute diced onions & celery in olive oil and butter for about 5 minutes
Sprinkle flour over onions and cook, stirring constantly for a few minutes
Whisk in the clam juice
Add milk, heavy cream and seasonings
Add clams and parsley
Let simmer for 15 minutes
I've made it with and without the clam juice and I personally like it better without, but my family likes it better with the juice. You won't have to worry about getting too thin eating this, but it's less fattening than the original. I left out the potatoes that I typically use which made the focus all on the clams as well it should be!
I like it with a glass of pinot noir and a handful or two of oyster crackers.