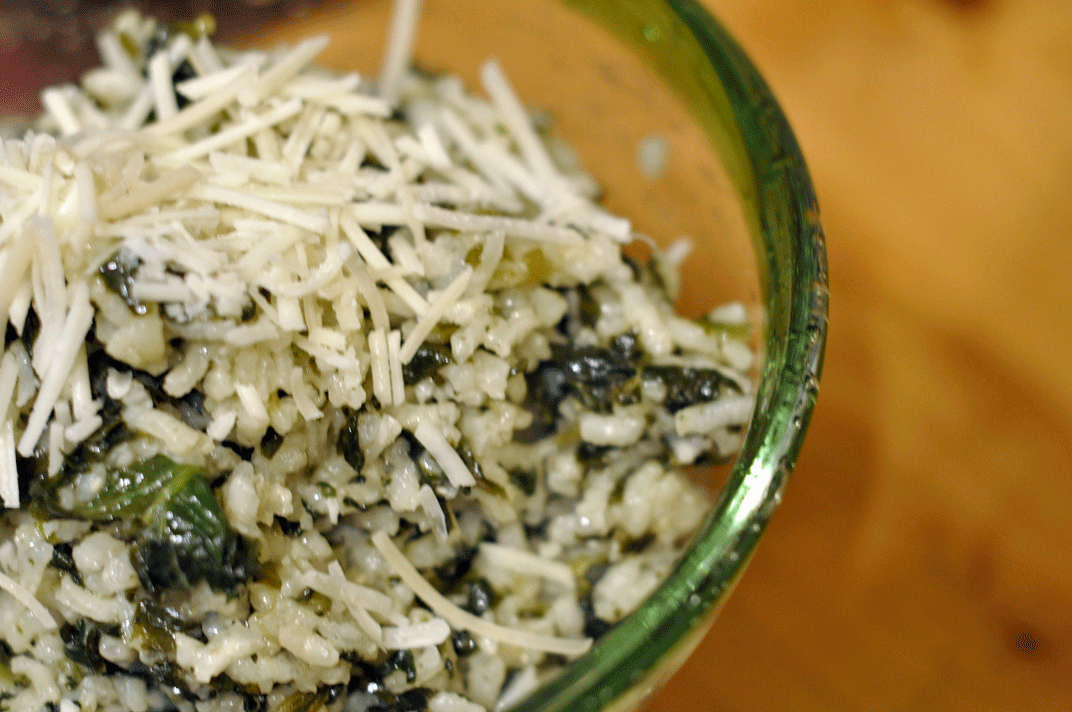 Print
Baked Rice with Spinach
2

T olive oil

1

large onion, diced

2 1/4 cups

arborio rice

1 1/2 cup

white wine

4 1/2 cups

vegetable broth

6 oz

fresh spinach, washed and chopped coarsely

1/2 cup

grated Parmesan cheese
salt and pepper
Instructions
Heat oil in skillet until hot over medium high heat, saute onions about 5 minutes
Add rice, stir to coat, simmer 2 minutes
Stir in wine, adding slowly and stirring until wine is absorbed
Add broth and bring to a boil
Simmer on low 6 to 8 minutes
Stir in spinach, cheese, salt and pepper
Spoon into 13 x 9 baking dish
Sprinkle a bit more Parmesan on top
Cover with foil
Bake at 375 degrees for 30 minutes
This recipe comes from a book called  "In-Style Parties" that I've had for years.
It's warm and comforting with just enough green to make it taste fresh.  Perfect as a side dish for roast chicken or pork.
Typically, I like potatoes instead of rice as a side dish for meat, but this has all the elegance of a rich risotto without the whole standing and stirring forever.  Try it next time you're looking for something different with meat.