Apple Tarte Tatin is a simple, seasonal French dessert, created by the Tatin sisters who served it in their hotel about a hundred miles west of Paris. Even though it's French, it's not difficult or fussy, especially if you make it in a cast iron skillet like I did.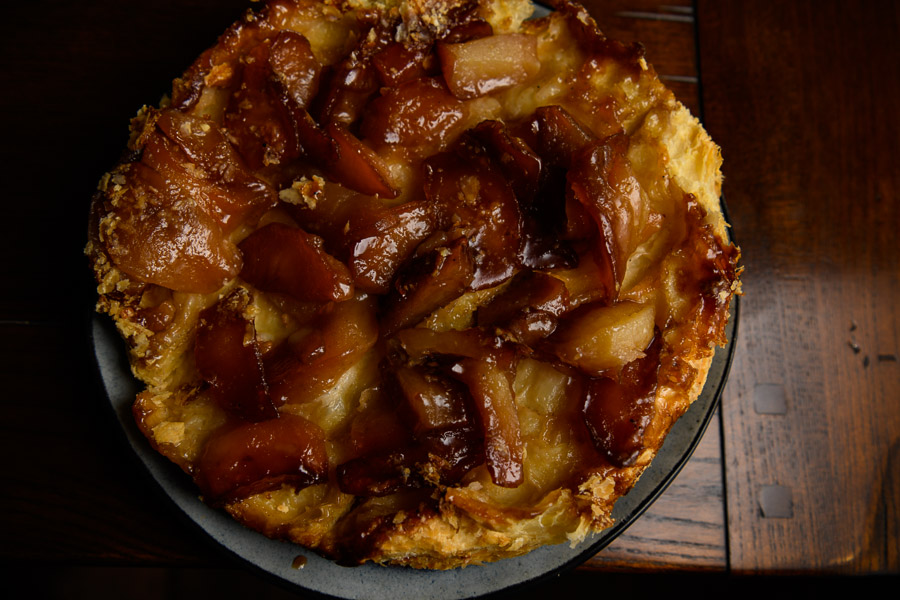 Print
Apple tarte Tatin
1 sheet of frozen puff pastry, thawed
1/4 C butter
1/2 C sugar 
1 T vanilla extract 
3 to 4 lbs of baking apples, peeled, cored and sliced 
squeeze of fresh lemon juice
sprinkle of salt 
Instructions
Preheat the oven to 375 degrees
Roll out the pastry with a floured rolling pin and cut into a 10″ circle, place it on a baking sheet in the refrigerator until you need it
Melt the butter in a 10″ cast iron skillet, add sugar, lemon juice, vanilla and a pinch of salt
Whisk the sauce over medium heat until it turns into caramel, about 5 minutes, lowering the heat if necessary
Remove the pan from the heat and place the apples on top of the caramel
Lay the sheet of puff pastry over the apples, tucking it in around the edges
Poke the pastry with a fork a few times to let the steam escape
Place the skillet in the oven and bake for 40 to 45 minutes, or until the pastry is golden brown
Let cool for at least 10 minutes and then carefully (it's really, really hot), turn it out onto a serving plate. 
Serve with vanilla ice cream.