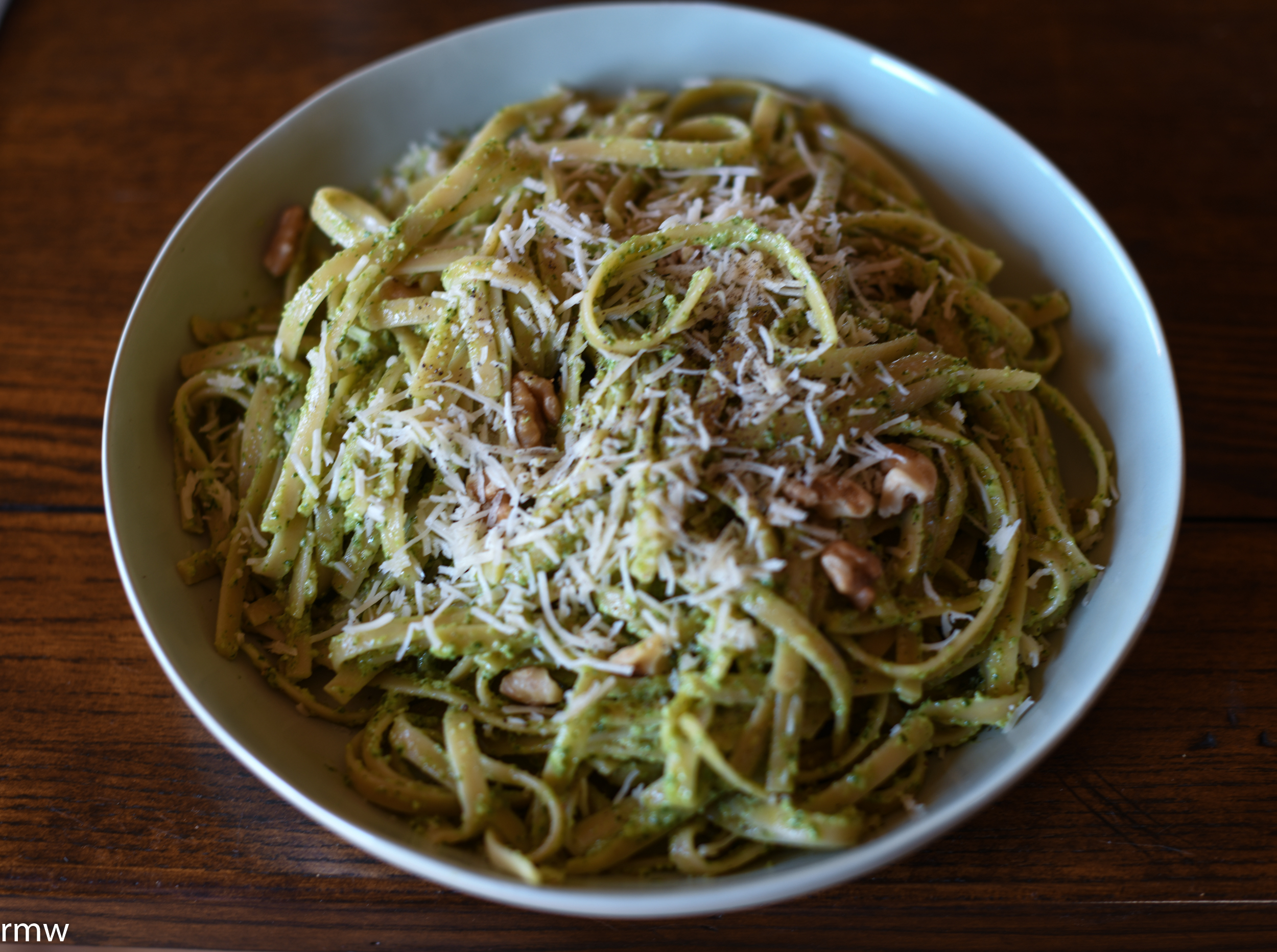 Pesto pasta is perfect this time of year when we're in those last few weeks of hot weather, kind of hoping for fall, but dreading winter, hoping for a few cooler days kind of vibe.  At least that's what's going on in my neck of the woods.  At any rate, this pesto salad is definitely the thing to make on a warm summer evening when you're not sure how hungry you are because it also makes great leftovers to take to work for lunch, so it's a win-win.
Arugula Pesto Pasta Salad
Author:
Rocky Mountain Woman
Ingredients
for the pesto:
2 cloves of garlic, peeled
1½ C packed arugula
½ C packed fresh basil
½ t lemon zest
3 t lemon juice
¾ t salt
⅓ C toasted walnuts
¼ C shredded Asiago cheese
½ C shredded Parmesan cheese
2 T goat cheese
½ C olive oil
½ C mayo
¼ C Asiago cheese (or more) for garnishing
1 lb fettucine, broken in half, cooked according to directions on box
Instructions
Dry roast the walnuts in a pan for just a minute or two until they get a little toasty
Add to a food processor with the arugula, basil, cheeses, lemon zest, lemon juice and salt
Pulse a few times until roughly chopped
With the processor running, slowly drizzle in the olive oil until a smooth paste forms
Add the mayo and pulse a few more times until mixed thoroughly
Add to the cooked, drained pasta and garnish with chopped walnuts and a little more Asiago cheese or a lot more Asiago cheese or a mixture of Asiago and Parmesan, whatever looks good to you!