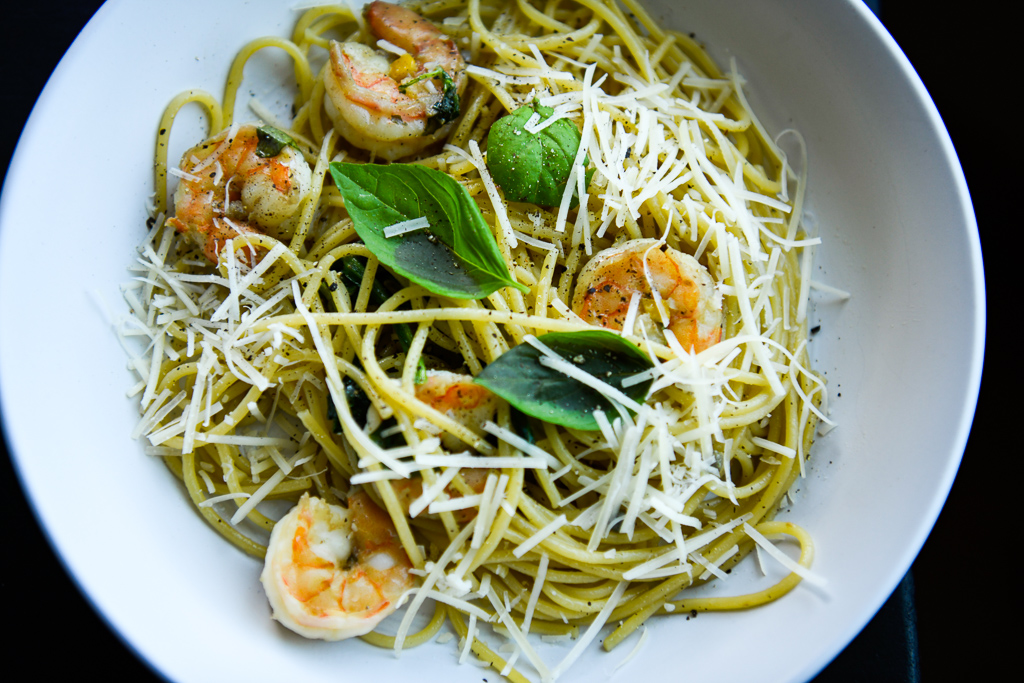 I don't know about you, but I sometimes feel as though every single thing in my refrigerator and pantry is boring and nearly inedible. I know there is potential there for culinary greatness, but I'm too lethargic to search for meaning by way of pasta and beans. Usually at those times, I talk my boyfriend into taking me to the hamburger/Mexican joint in town where I always find something (usually a cheeseburger) that trips my trigger.
A few nights ago, however, I just didn't want to bother putting on shoes to get in the jeep and go out to eat, so I stared at the pantry until I had a plan. It had to be easy peasy and fast because Jeopardy was about to start!
Print
Basil shrimp pasta
1 lb pasta
1 lb of cleaned, deveined shrimp
1/3 C chopped basil and a few leaves for garnishing
1/2 C dry white wine
2 T lemon juice
2 T extra virgin olive oil
1/2 t salt
1/2 C grated Parmesan Cheese
Instructions
Cook pasta according to package directions
In a large skillet or dutch oven, heat olive oil and add shrimp, cook until shrimp is done, about 5 minutes
Add basil, wine, lemon juice and salt – let simmer a minute or two
Dump drained pasta on top of sauce and toss together
Garnish with basil leaves and Parmesan Cheese
This hit all my buttons and only took a few minutes to throw together. Try it next time you are in a hurry and want something different!