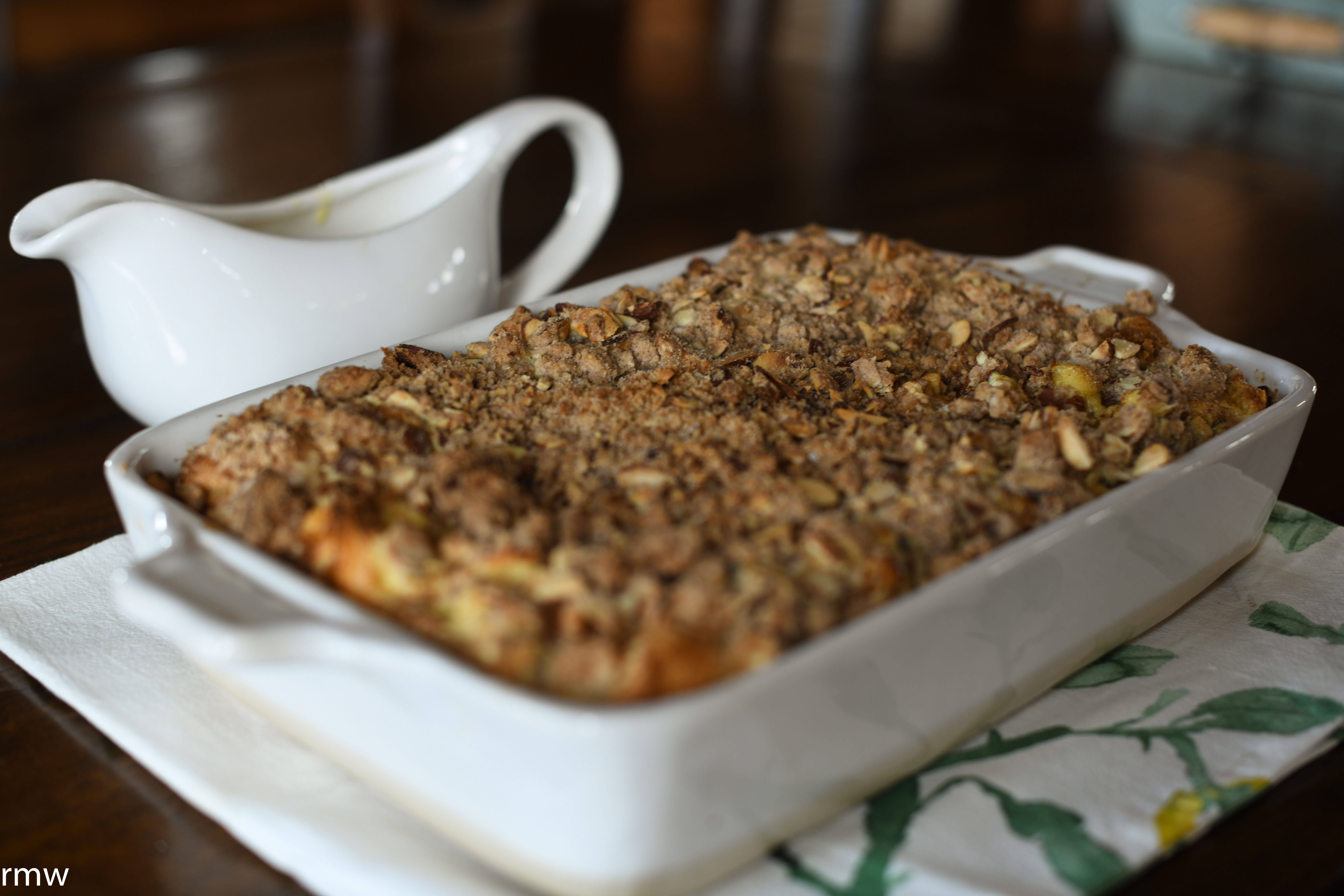 I have to admit that I am not really the biggest bread pudding fan in the world.  I've only had it a few times and didn't find it memorable (except for one time at K Paul's in New Orleans where it blew my socks off).  At any rate, I saw this recipe in a Wolf Cookbook and decided to try it and I'm happy I did because it was really good!  Then I decided to add a bit of Creme Anglaise because well, why not?  and it got even better.  It would be a great addition to an Easter Brunch buffet or to any buffet at all for that matter.
Print
Bread Pudding with Cream Anglaise
For the streusel

1

C all-purpose flour

1

C sliced almonds

1/2

C lightly packed light brown sugar

1/4

C granulated sugar

2

t cinnamon

1/2

t kosher salt

1

stick unsalted butter, melted
for the bread pudding

2

T unsalted butter, softened

1

loaf of challah or brioche (about

12 oz

) torn into uneven chunks

3

C whole milk

2

C heavy cream

8

large eggs

1/4

C maple syrup

1

T vanilla extract

3

t ground cinnamon

1

t kosher salt

1/2

t ground nutmeg

1/2

t almond extract
for the Creme Anglaise

1/2

C whole milk

1/2

C whipping cream

1

t pure vanilla extract

3

large egg yolks

3

T granulated sugar
Instructions
for the streusel:
In a large bowl stir together the flour, almonds, brown sugar, granulated sugar, cinnamon and salt.
Stir in the butter and then use your fingers to blend until the streusel forms uneven clumps
for the bread pudding:
Preheat the oven to 350 degrees (I used convection bake)
Grease a 9 x 13 inch baking dish with the softened butter
Place the bread chunks in the baking dish
Whisk together the milk, cream, eggs, maple syrup, brown sugar, vanilla extract, cinnamon, salt, nutmeg and almond extract in a large bowl then pour it over the bread
Spread the streusel evenly over the top
Bake until puffed and golden brown, about 40 minutes
For the Creme Anglaise:
Combine milk, cream and vanilla in a heavy saucepan and bring to a simmer over medium heat
Remove from heat
Whisk egg yolks and sugar in a medium bowl
Add hot milk slowly to yolk mixture, whisking constantly
Return to the pan and stir over low heat until it thickens, about 5 minutes
Don't let it boil!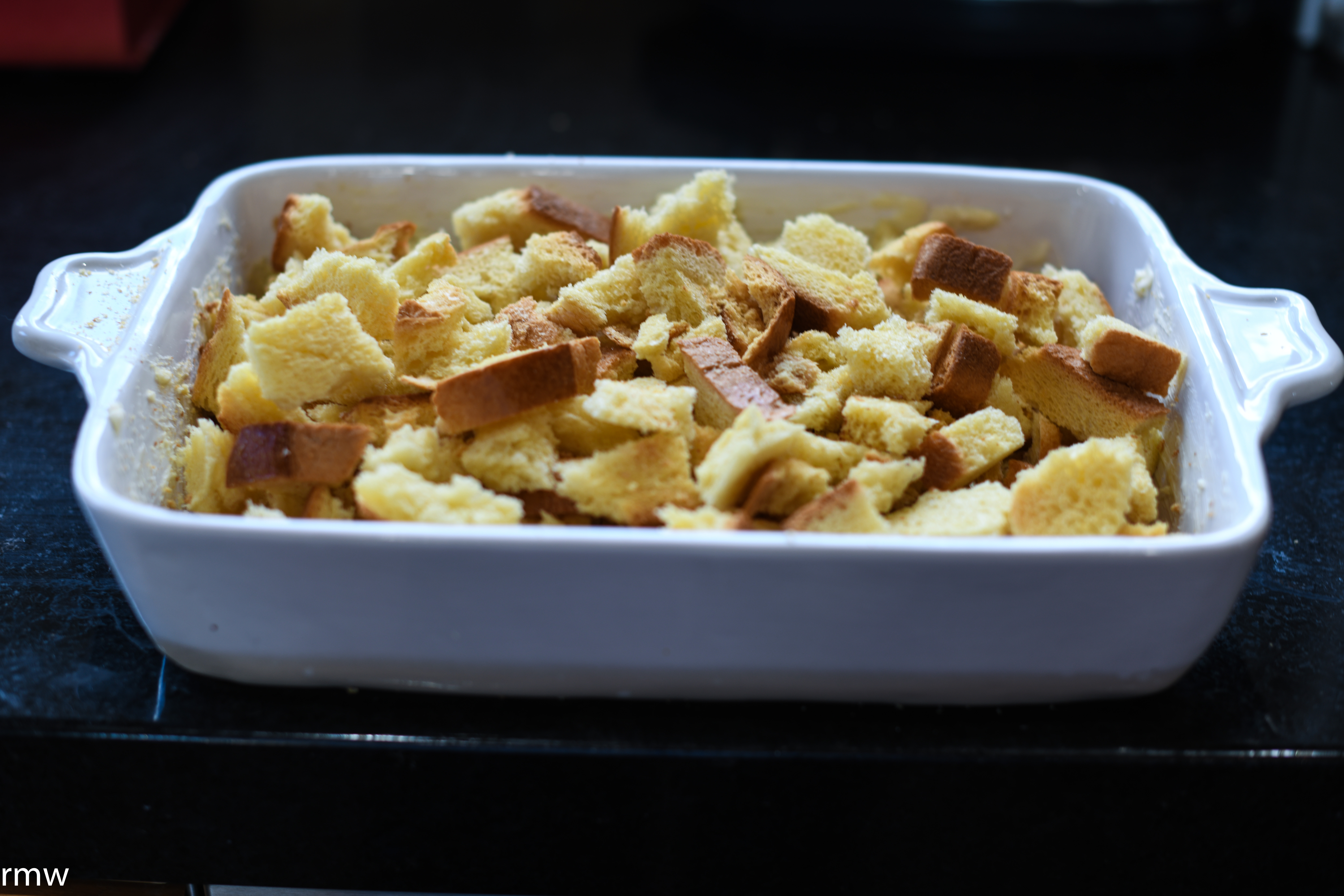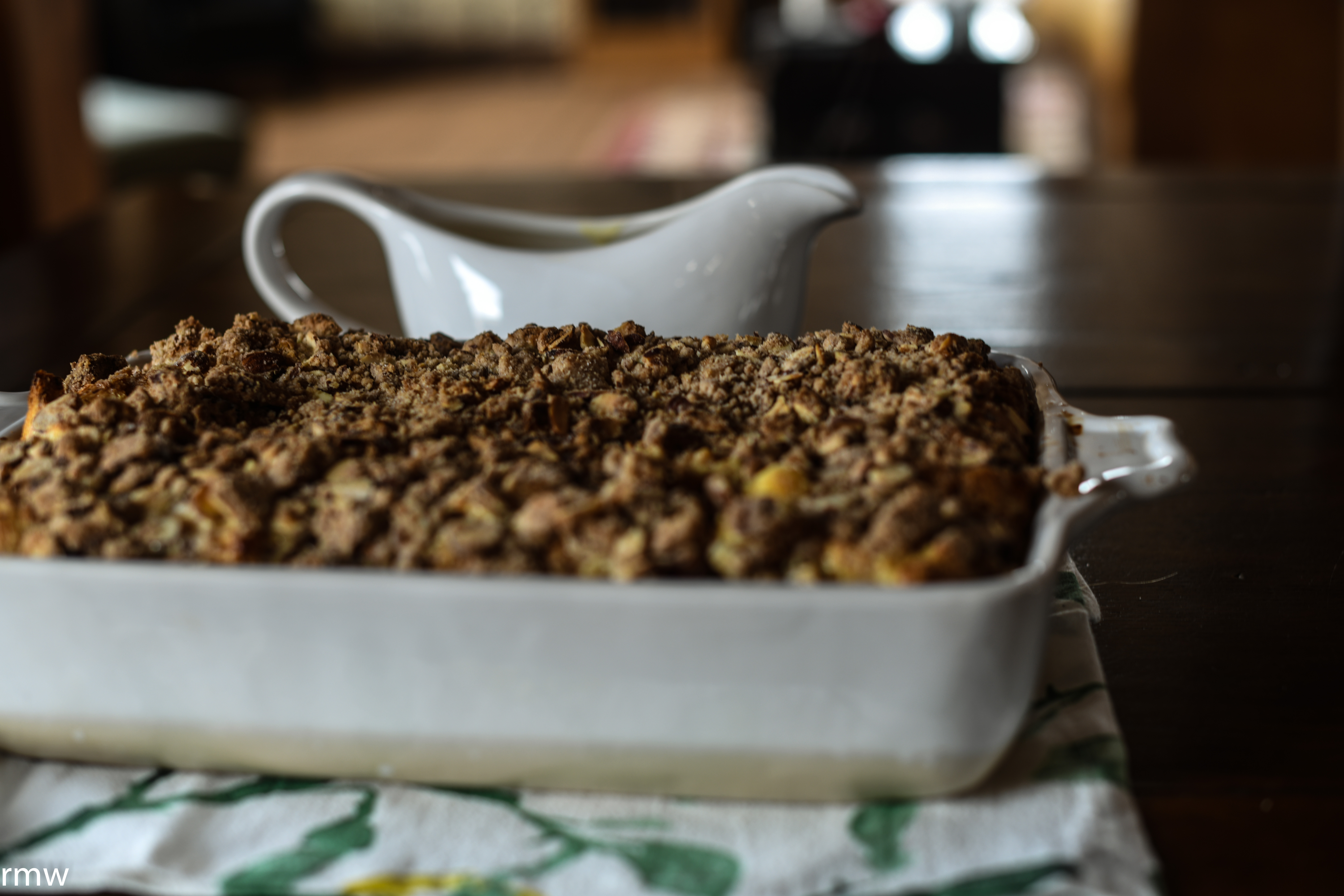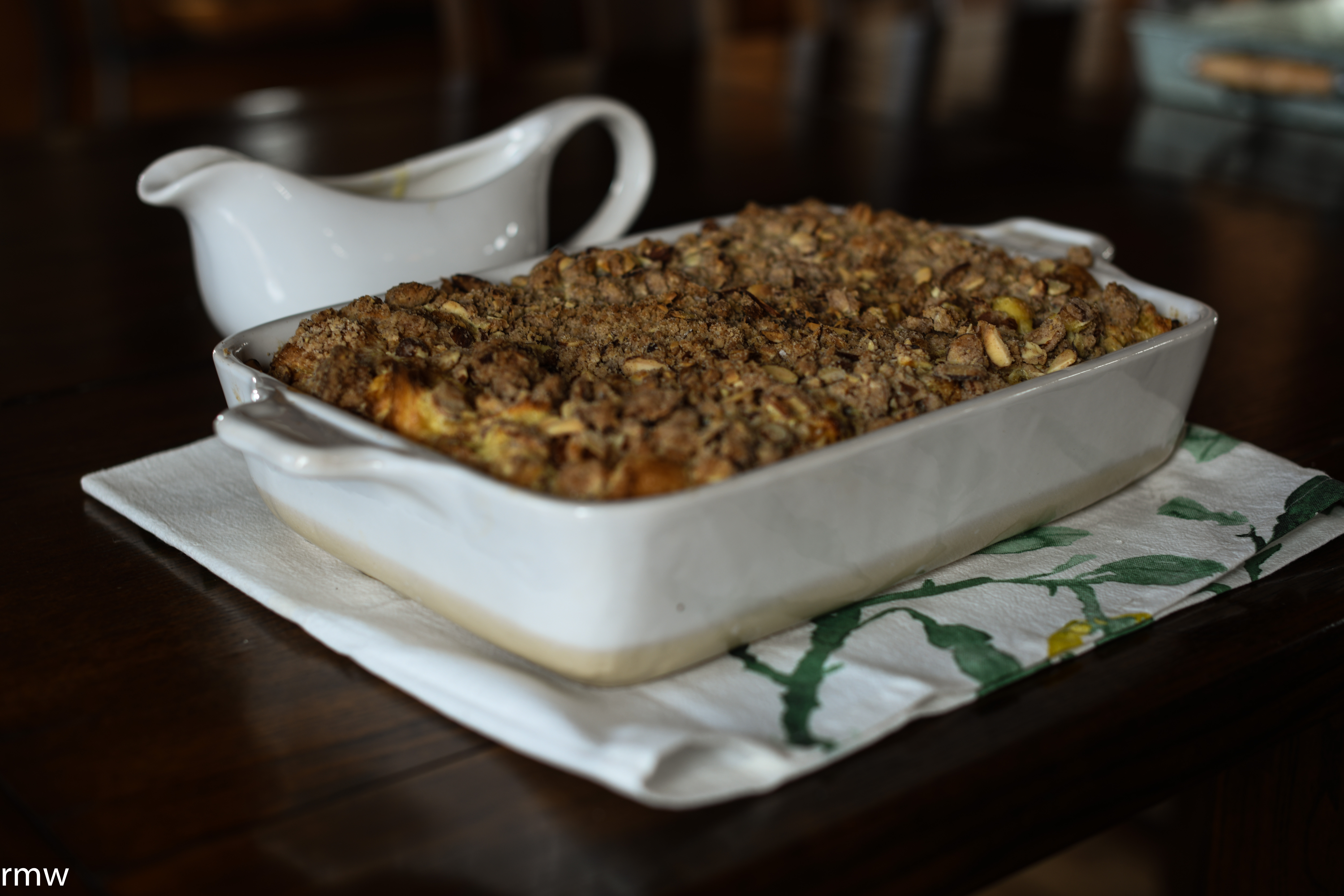 The original recipe called for allspice, but I'm not a fan.  You can add 1 teaspoon to the egg mixture if you really want to, but I upped the cinnamon instead and might even up it a bit more the next time I make this.