The smell of dill always reminds me of living in Pennsylvania when I was first married and walking in my mother in law's garden with her. She was usually barefoot and we would wander around the herbs and flowers stopping to smell and pick. She would always stop at the dill plants and rub the tops between her fingers and hold them out for anyone lucky enough to be there to smell. She loved dill and it showed up a lot in her cooking.
When I start to miss walking with her in the garden in the summer, which I always do every summer even though she's been gone for many years now, I make this salad.  It's summertime at it's best!
Print
Dilly Potato Salad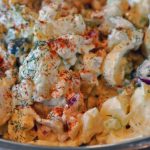 Scale
Ingredients
5

peeled hard boiled eggs, coarsely chopped

2 1/2

lbs Yukon Gold Potatoes

1/2

C mayonnaise

1/2

C sour cream

1

T sweet pickle juice

2

T Dijon Mustard

3/4

C minced red onion

1/3

C chopped fresh dill

1/2

C minced sweet pickle

1/2

C chopped celery

1

t sweet paprika
Salt and pepper from the mill
Instructions
In a large saucepan, combine the potatoes, 2 t salt and water to cover by 2 inches
Bring to a boil over medium heat, uncovered until the potatoes are tender and can be easily pierced with a fork, 20 to 25 minutes
Drain and when cool enough to handle, cut into cubes
Place the still warm potatoes in a large bowl and in a small bowl combine the mayo, sour cream, pickle juice, mustard and salt and pepper to taste
Pour over the potatoes and mix thoroughly with the balance of the ingredients
Garnish with a little dill and paprika
Cover and chill at least an hour before serving
Most Excellent!