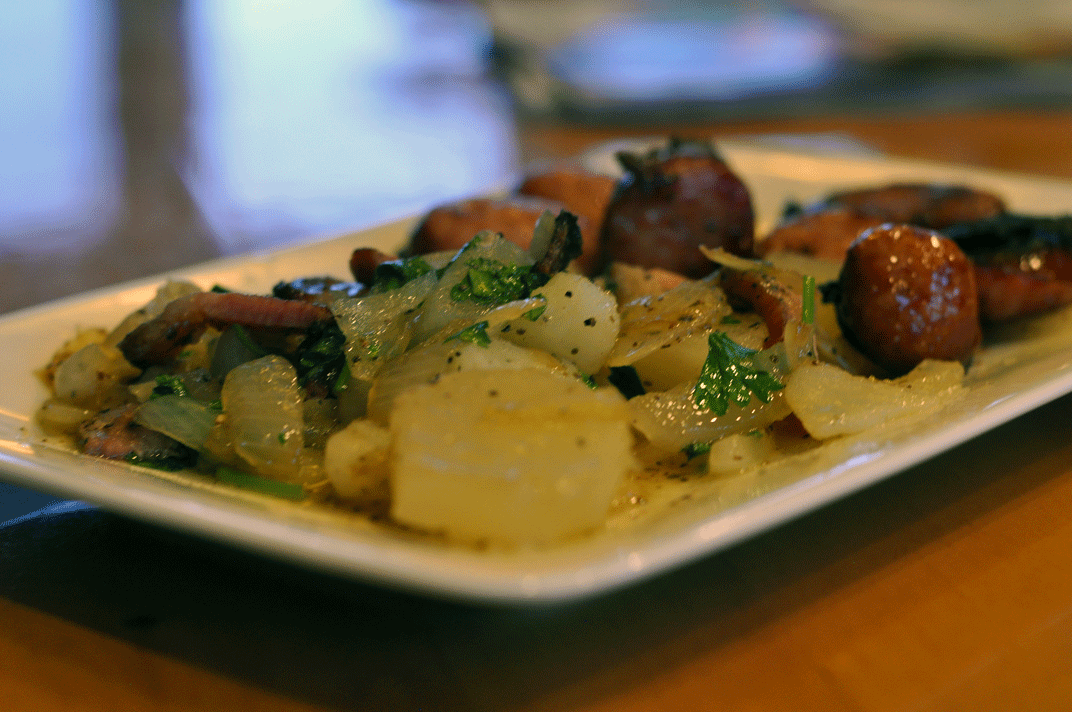 Although I grew up in Northeastern PA, and typically the southeastern part of the state is considered Pennsylvania Dutch country, I ate a lot of sauerkraut and brats as a kid. My maternal grandparents were German and my grandfather was a butcher, so the food at their house was pretty meat intensive. Vegetables were an afterthought and often pickled.
My Dad had a garden so we ate a lot of vegetables at home, but when we were at my grandparents' house meat held the center stage, often in the form of prepared meats like bologna (not the stuff in today's markets, this was homemade and WONDERFUL), sausages, hot dogs, brats etc.
My grandfather made his own sauerkraut, root and birch beer, hot dogs, sausages, liverwurst and pickled eggs. My grandmother made spice cakes and dutch babies. It was simple, hearty food and I loved all of it, except for the stinky limburger cheese my grandfather loved.
My grandparents died when I was pretty young and my father did a lot of the cooking in our house, so many of these foods became just a sweet memory. I have posted my mother's German pancakes and my grandmother's Dutch baby here and hope to add some more German recipes as time goes on.  I have my Mom's recipe box that has a few things in it, but she had turned over most of the cooking to my Dad by the time my siblings were born. My younger siblings don't remember any of these wonderful foods that came out of my Mom's and Grandmother's kitchens. As a matter of fact, my grandparents had died by the time my youngest siblings were born.
Print
3 cups

diced peeled potatoes

1/2

onion, diced

3

slices bacon

1/4

c white wine vinegar

2

T water

2

T sugar
sprig of fresh parsley, chopped
salt and pepper from the mill to taste
Instructions
Boil the potatoes in salted water until soft – about 10 minutes
Drain and put in a bowl – sprinkle with the vinegar, stir and set aside
Fry the bacon until crisp – break into small pieces
Add the onion to the bacon grease and cook until translucent
Add water, sugar, salt and pepper to pan and stir until sugar is dissolved
Add potatoes, bacon and parsley