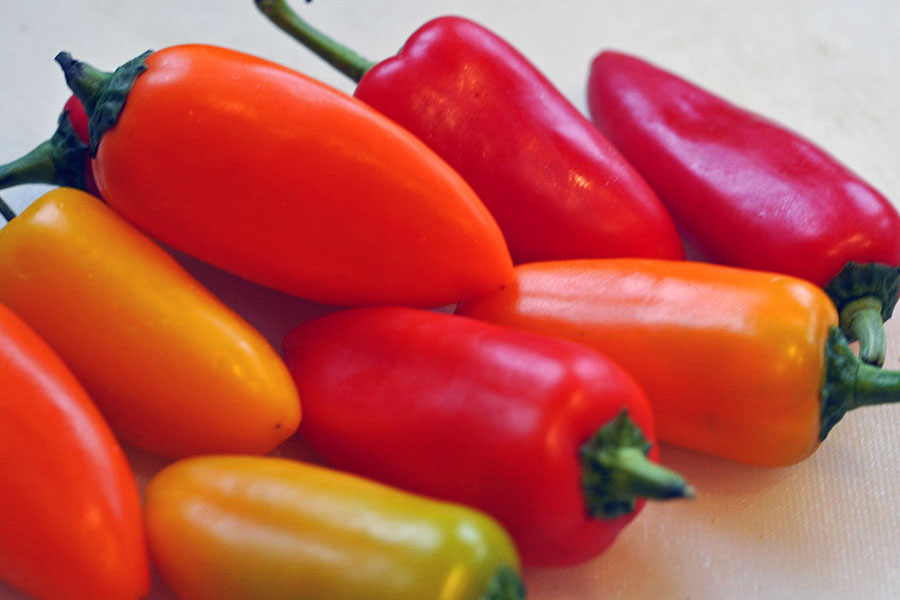 I've seen little bags of these cutie pies in the market lately. They've been trying to get me to buy them by being cute and colorful. Finally, last weekend I gave in. Then I had to figure out what to do with them and, as usual, Ina came to my rescue (I do love that woman). Here's what she suggested!
Print
Ina's Pepper Bruschetta
small bag of sweet peppers or

2

large red bell peppers, seeded and sliced

2

large yellow peppers, seeded and sliced

1

t sugar

2

T capers, drained

4

T julienned fresh basil leaves
Kosher salt
black pepper
Baguette

6 ounces

soft gorgonzola
olive oil
Instructions
Heat about 2 T olive oil in a skillet over medium high heat
Add the peppers and cook until soft, about 15 minutes
[url href="https://therockymountainwoman.com/wp-content/uploads/2015/01/pepper-bruschetta.jpg"][/url]
Add the sugar and cook a few more minutes
Stir in the capers and basil and season to taste with salt and pepper
Slice the baquette thinly and brush with olive oil on 1 side
Toast in the oven at 375 degrees, oil side up until brown – about 7 to 10 minutes
Remove the toasts from the oven, top with the pepper bruschetta and a dollop of gorgonzola
Place back in the oven until the cheese melts – I didn't do this because I used a really soft gorgonzola and it seemed perfect just as it was!
Perfect for the Super Bowl!