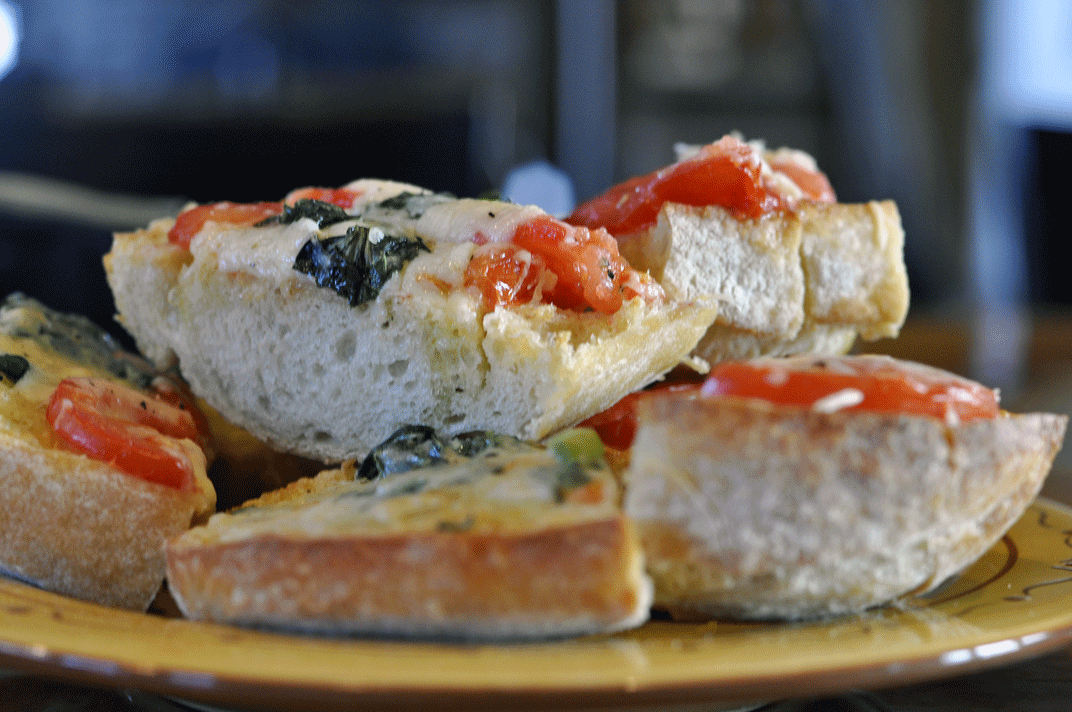 I had a bunch of house guests a little while ago and served this for breakfast (with a poached egg for those who so desired). I had a big batch of mimosas, a pound of bacon, fried crisp and on a platter and these little beauties. It was a hit!
We had all eaten a huge dinner the night before on the deck, so a meal of hash browns, eggs and toast just seemed a little too much for the very warm weather, late morning breakfast.  This, it turned out was just  the ticket.
It's hearty and delicious. I'd say serve it for lunch with a salad or soup or as an appetizer with drinks. Altogether a flexible type thing. Even the kiddos liked it (I guess it looked a bit like pizza)…
Print
Breakfast Bruschetta? Gruyere & Tomato
1

loaf of french bread

6 oz

of Gruyere, sliced very thinly
few sprigs of basil, chopped roughly

2

extra large or

3

medium ripe tomatoes, sliced very thinly
Extra virgin olive oil – bring out the good stuff for this!
Instructions
Slice the bread in half and brush with olive oil
Toast in a 350 degree oven for 10 minutes for so until just starting to brown
Remove from oven, top with tomatoes, Gruyere and basil
Return to the oven for about another 10 minutes or just until cheese melts
Salt and pepper
Cut into slices
Five ingredients, 20 minutes.  Can't beat it!