This is the perfect way to use up that turkey carcass. It's warm and comforting and healthy.  Exactly what you need to combat the excesses of the holiday!
Print
Pressure Cooker Turkey Soup w Homemade Noodles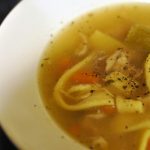 Scale
Ingredients
1

turkey carcass

1

large onion, sliced

3

carrots, sliced

2

celery stalks, sliced

1

C semolina flour

1/4

t salt, plus a sprinkle or

2

more

1/2

t olive oil

1

egg

1/4

C chopped parsley
salt and pepper to taste
Instructions
Break up the carcass so it will fit in your pressure cooker
Add onion, carrots and celery to pressure cooker
Add water to cover
Cover and bring up to high pressure for 30 minutes
Let pressure come down naturally
After broth cools a bit, remove the vegetables and bones
Dice the meat and add to a large pot with the strained broth and some of the vegetables, adding additional chicken broth to cover, if necessary
Bring the soup to a simmer, add chopped parsley
At this point, you can add a handful of noodles, or for a just a little additional investment of time, make your own
Put the flour and salt in a large bowl and make a well in the middle
Add the egg and olive oil in the middle of the well and mix thoroughly
Turn out on a semolina covered board and knead until smooth, about 10 minutes
Leave the dough on the work surface and cover with a bowl or a towel, let sit 20 minutes
Roll the dough out like a pie crust
Cut with a pizza cutter or knife into thin strips
Carefully add the noodles to the soup and cook until al dente – it only takes a few minutes, so keep checking
Serve with a glass of Chardonnay and a green salad for soup perfection!
xxoo,
RMW