This prosciutto and clam pasta will make you very happy when you make it this weekend.  I know that because it made me very happy when I made it last weekend.  The briny clams and salty prosciutto made the salty savory side of my brain satisfied, and the fennel hit a note with the sweet side of my brain.  Add all of that to a big steaming pot of pasta, and well you get the picture.  If not, here's a picture: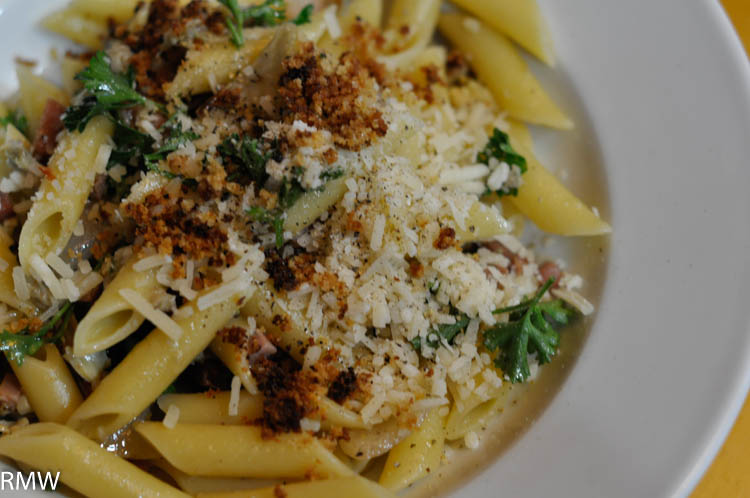 Looks good, doesn't it?  Here's how I made it:
Print
Proscuitto and Clam Pasta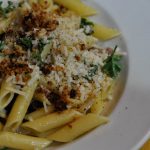 Scale
Ingredients
1

fennel, bulb only, sliced

3

cloves of garlic, minced

2

T olive oil

4 oz

proscuitto, diced

3

shallots, diced

1/2 cup

dry white wine
pinch of red pepper flakes

1/2 cup

Creme Fraiche

10 oz

can clams
bunch of parsley, chopped up

1/3 cup

bread crumbs

3

T butter

1/2 cup

shredded Parmesan cheese

1

12 oz box of pasta, cooked
Instructions
Mix the fennel with the olive oil and roast in a 350 degree oven for about 15 minutes
Coat the bottom of a skillet with olive oil and warm up
Add shallots and cook a few minutes until they soften
Add fennel, garlic and proscuitto and cook a few more minutes
Add wine and clams, cook for another 5 or 6 minutes
Add parsley, creme fraiche, and red pepper flakes.
Cover, take off heat, let sit for a minute or two
Toast bread crumbs in butter until they brown a bit
Pour the sauce over the pasta and top with the bread crumbs and Parmesan
Serve with the rest of the white wine.  I used a Sauvignon Blanc and it was perfect.
I hope you like it as well as I did!