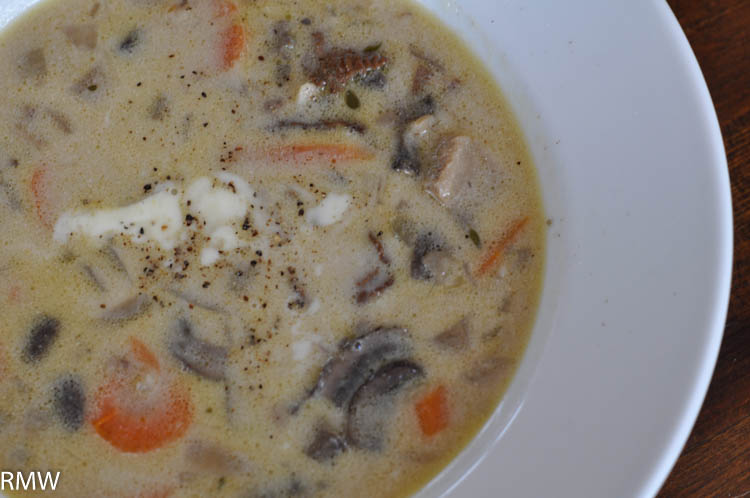 When I was pregnant with my first child, the doctor's office was in the big city and I lived WAY out in the country.  So, when I had my regular prenatal appointments, I would take full advantage of the day in the city and have lunch at the deli on the ground floor of my doctor's office.  This was a long long time ago.  Long enough that the elevator was a cage looking thing run by an elevator attendant who wore a uniform with a cute little hat.  The special at the deli on Thursday was a rich, creamy mushroom barley soup, so I always made my appointments for Thursday.  I would ride up the elevator to be weighed in at the doctor's office, and then spend the time waiting for my appointment eating at the deli.  The smoked turkey sandwich was my favorite, but the corned beef wasn't anything to sneeze at either.
I've tried since then to capture the flavor of that soup and haven't yet succeeded.  This isn't it either, but it is a good mushroom barley soup well worth making and eating.
Print
Mushroom Barley Soup
1 oz

dried wild mushrooms

3

T olive oil

3 oz

pancetta, chopped

3 cups

onions, chopped

2 cups

carrots, sliced

2 cup

celery, sliced

4

cloves of garlic, minced

3/4 cup

quick cooking barley

16 oz

baby bellas fresh mushrooms, chopped

4 cups

beef broth

3

springs thyme, tied together with twine

2

T flour

2

T butter

2

t salt

1

t pepper

4 ounces

creme fraiche

1/2 cup

Marsala

1/4 cup

chopped parsley
Instructions
Put the dried mushrooms in 6 cups of water in a medium pot and bring to a boil. Turn off heat and set aside for at least 20 minutes so they can re-hydrate
Heat olive oil in a large Dutch Oven
Add pancetta, onions, carrots and celery – saute over medium heat until the vegetables are tender, stirring occasionally, about 10 minutes
Add garlic and barley and cook for 2 minutes, stirring it a bit more
Add the fresh mushrooms and the Marsala, cook for 5-7 minutes
Strain the dried mushrooms, reserving the liquid
Chop the mushrooms and add them to the pot with the soaking liquid, thyme, salt and pepper
Bring to a boil, lower the heat and simmer for about 35 minutes, discard the thyme
In a small bowl, mash the butter and flour together and stir into the hot soup
Simmer for a few minutes, then stir in the creme fraiche
Serve with another teaspoon of creme fraiche and a drop or two of marsala
This recipe is basically Ina's lovely Wild Mushroom and Farro Soup that I have tweaked a little bit.
I love Ina.  sigh…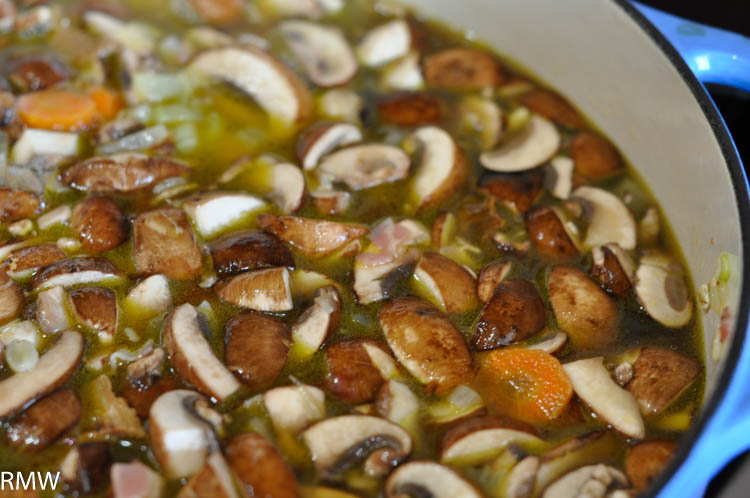 Enjoy!