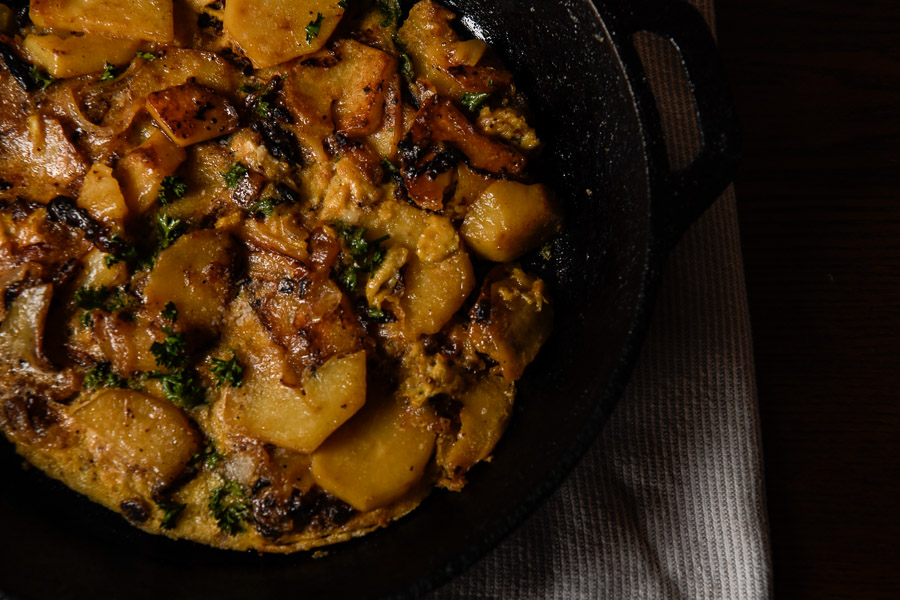 It's my version of a hearty breakfast with all the basics.  I'm not a big smoked meat fan in the morning. I prefer my breakfast to help ease me into the day with simple ingredients, cooked to perfection.  We've all had what passes for a Spanish Omelette in restaurants: green peppers, onions, cheese, all topped with salsa.   I do like one of those now and again, especially in a restaurant, but this recipe is for a true Spanish Omelette, the kind they make in Spain, I think.  I can't be sure because I've never been to Spain, but the internet claims this is the kind they serve in Spain so I'm going with that.  The internet never lies, you know.
Print
Spanish Omelette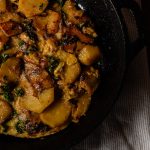 Scale
Ingredients
1/2 cup

olive oil

1/2

lb new potatoes, sliced thinly

1

large onion, sliced thinly

4

eggs
couple sprigs of parsley, chopped
Instructions
Cover the bottom of a skillet with a generous layer of olive oil and heat on medium for a few minutes
Add onions and potatoes, cook for about 25 minutes or until soft and starting to brown
Beat eggs a bit, not too much just enough to mix together
Add potatoes and onions to eggs in bowl, mix in parsley
Wipe out pan, cover the bottom of the pan with olive oil again and put egg/potato/onion mixture back in
Cook for another 20 minutes or so on low heat, moving the egg away from the pan to allow the liquid to go under cooked eggs
Turn over by placing a large plate against the pan, flipping the omelette onto the plate and then flipping it back into the pan on the other side
Cook another 10 minutes or so on low
This is also great the next day, warmed up.
I think you'll like it.