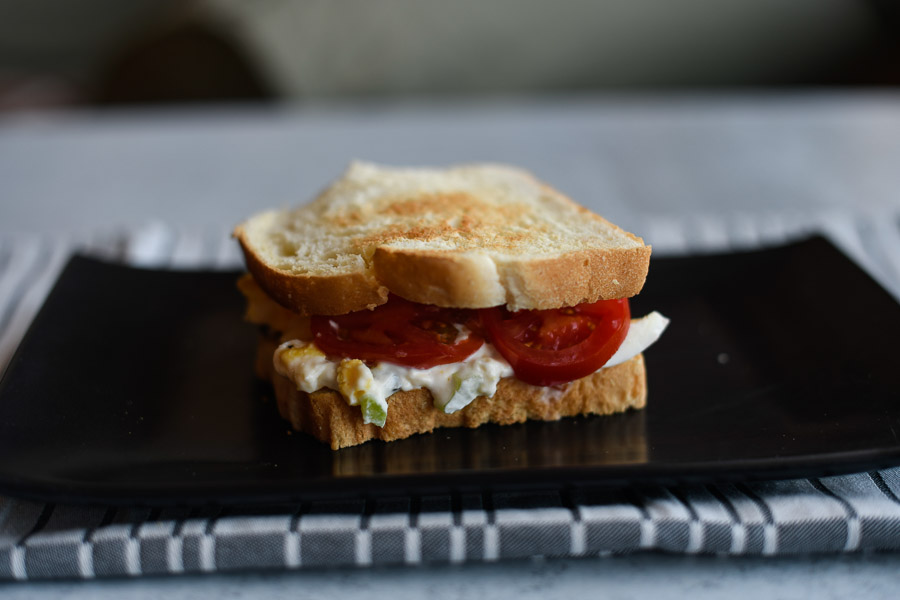 I am somewhat of an egg sandwich authority. I've made hundreds of egg salad sandwiches in the fifty some years I've been cooking. It was a go to sandwich when my kids were younger because I always had the ingredients on hand and it didn't take a lot of work or a lot of pots to wash later.
Usually I just hard boil some eggs, add a little mayo, maybe some onion and chopped pickle and call it good. Every once in a while, however, I pull out all the stops and make this version, which if I do say so myself, is the very best egg salad sandwich recipe in the world!
Print
The Best Egg Salad Sandwich Ever
4

eggs

4

T homemade mayo

1

t chopped celery 

2

t chopped sweet pickle

1

t chopped capers
salt and pepper to taste

1

large tomato, sliced 
Mayo:

1

large egg yolk

1/2

t fresh lemon juice

1

t white wine vinegar

1/2

t salt

1/4

t country style dijon mustard (the kind with seeds in it)

3/4

C olive oil or grapeseed oil
Instructions
Hard boil 4 eggs and chop coarsely
To make the mayo:
Whisk yolk, mustard, salt, vinegar and lemon juice until blended – about a minute or so
Slowly add oil a little at a time, whisking constantly until mayo is thick – about 6 or 7 minutes
Mix chopped eggs with mayo, celery,sweet pickle, capers and parsley
Serve on toasted bread with salt and pepper and a slice or two of tomato 
I like egg salad really chunky on plain white bread or pumpernickel with a diet coke. It's my version of a comfort lunch. Add a slice or two of tomato and it's the best egg salad sandwich ever!
It's also good on fancy crackers as an appetizer. I hope you love it!