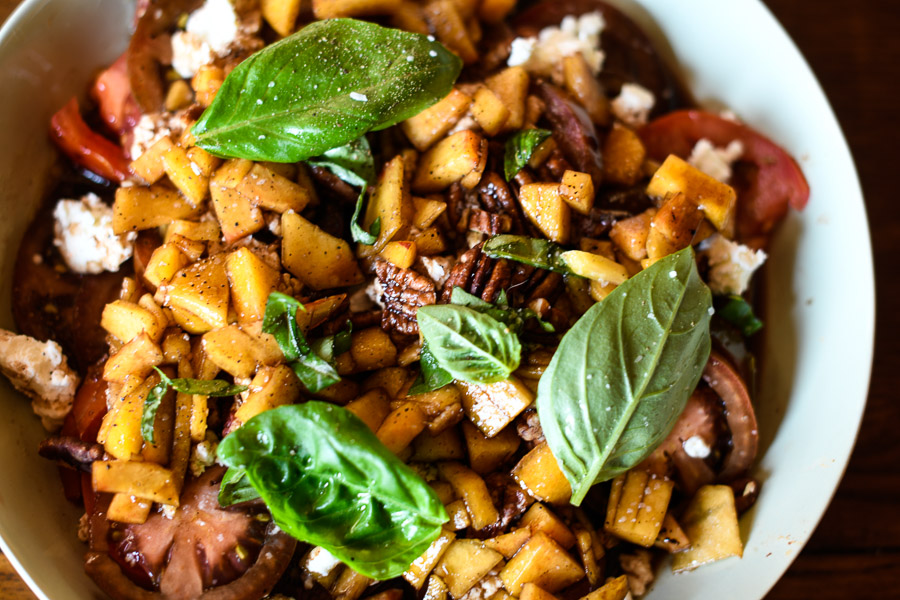 I found this recipe for peach and tomato salad on the internet. It was originally from Southern Living so I had to try it because peaches! tomatoes! goat cheese! Southern Living!
It's as close as you can come to summer in a bowl and some friends and I gobbled up the whole thing in one sitting.
I didn't have any white balsamic so I used a plain old brown one and it was lovely. The package of goat cheese I had was 4 oz instead of 3 so I crumbled the entire thing on the salad and I think it was a happier salad because of it!
Try this one while the peaches are sweet and the tomatoes are juicy, before they get hard and mealy, respectively.
xxoo,
RMW
Print
Tomato and Peach Salad with Goat Cheese
1/3 cup

balsamic vinegar

1

garlic clove, minced

2

T brown sugar

2

T olive oil

1/8

t salt

1

large fresh peach, peeled and diced

1

T chopped fresh basil

2

lb sliced heirloom tomatoes

3 ounces

of goat cheese

1/2 cup

coarsely chopped toasted pecans
Instructions
Whisk together balsamic vinegar, minced garlic, brown sugar, olive oil and salt
Stir in diced peach and fresh basil
Spoon over sliced tomatoes
Top with goat cheese and pecans