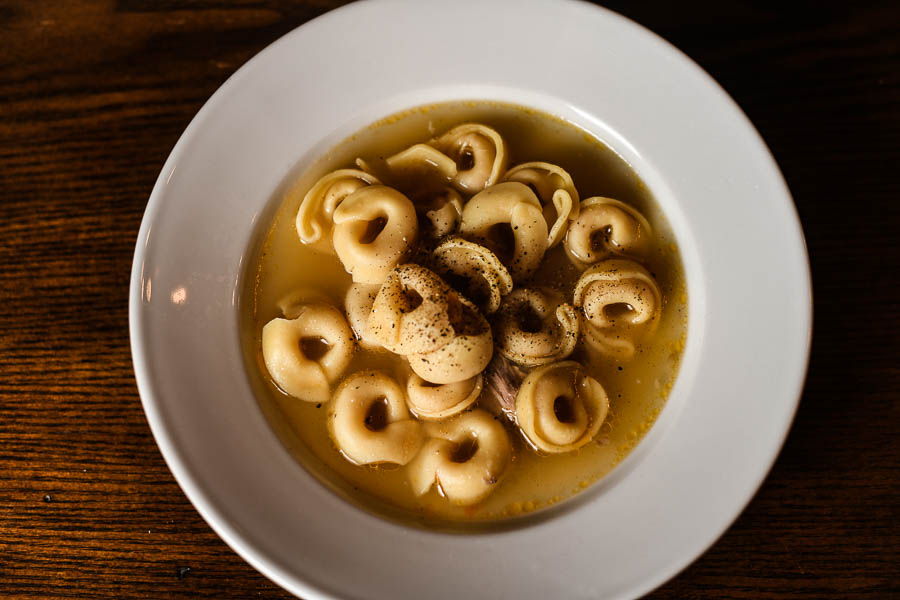 Packaged tortellini in a rich homemade broth will make you think your Italian grandmother made this soup. It's the perfect thing to make for a sick friend or family member or just because it's delicious and you want some.
Print
Tortellini Soup
Packaged tortellini in a rich, homemade broth 
2 lbs of beef marrow bones
1 chicken carcass
4 chicken thighs, bone in, skin on
1 large onion, quartered
1 large leek, cleaned carefully and chopped into large pieces
5 carrots, peeled and cut into large pieces
3 ribs of celery, cut into large pieces
2 bay leaves
1 sprig of parsley, chopped
2 cloves of garlic, chopped
1 t salt
few grinds of pepper from the mill
6 quarts of water
fresh, dried or frozen tortellini – 1 package (about 12 ounces) 
Instructions
Place all ingredients except the tortellini in a large stock pot and bring to a boil
Lower heat and simmer all day – at least 5 hours
Let stock cool, remove bones and meat
Strain the stock through a chinois or sieve
Add meat and stock back into the pan and bring to a boil
Add tortellini and cook according to package directions  
Seriously good soup that just might be the answer to the common cold or flu!