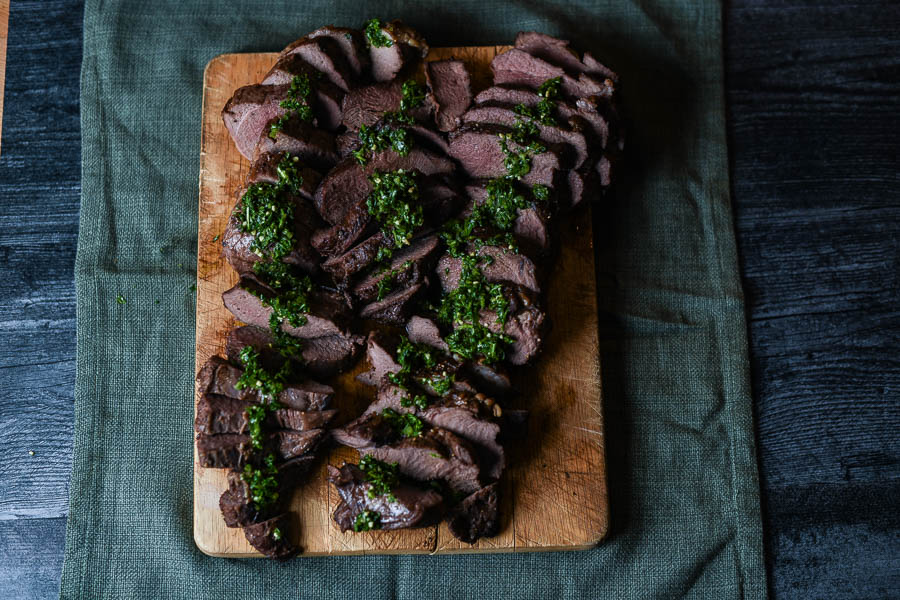 Sitka Venison may very well be my new favorite game meat. A friend offered to let me come to her house and cook with it and I jumped at the chance. It's richer than mule deer with a wonderful texture. This flank steak practically melted in my mouth. The chimichurri added a little zing making it one of my all time favorite meals.
Print
Sitka Venison with Chimichurri
Rich, velvety meat with a tart spicy chimichurri sauce.  
Venison – We had a large flank steak, but just about any cut would do as would elk or any other type of venison 
few tablespoons of olive oil to cook the meat 
2 cloves garlic, minced
1/2 t dried oregano 
1/2 C cilantro, chopped
1/4 C parsley, chopped
1/2 small red onion, minced
1/4 C white wine vinegar
1/2 C olive oil
1/4 t kosher salt
1/2 jalapeno, chopped finely 
juice of 1 lime 
Instructions
Cook meat over medium high heat in a cast iron skillet in a little bit of olive oil about 4 minutes on each side or until done to your taste 
Place the rest of the ingredients in a food process or blender and pulse until mixed thoroughly 
Serve the sauce on the meat