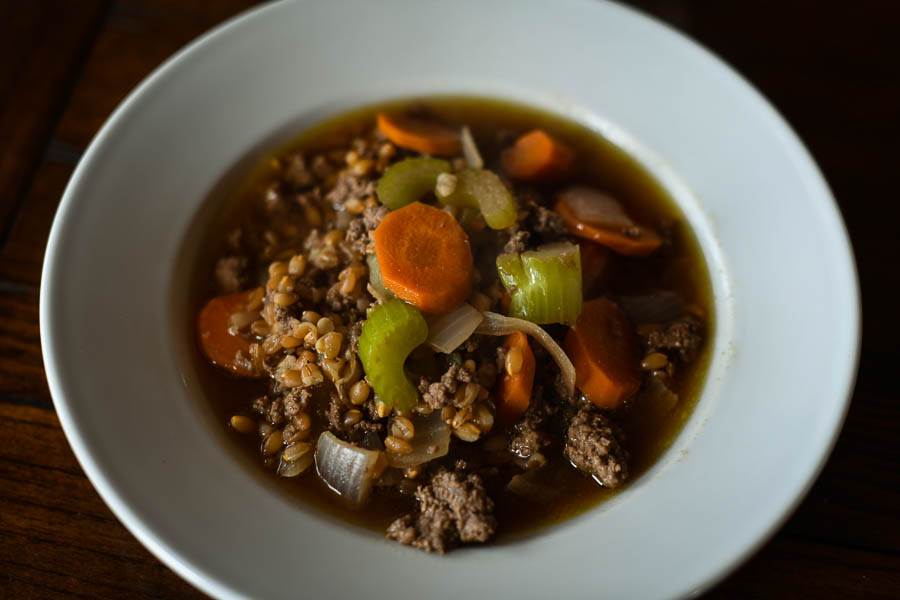 It's the time of year when we really need soup in our lives and this recipe is a healthy, easy peasy way to get more soup in your life. I made a big pot on the weekend and have been eating it all week. It's one of those recipes that's better after it sits in the fridge a while. If you don't have ground venison, ground beef will fill in nicely.
Print
Venison Farro Soup
Farro, venison and vegetable soup  
For the farro 
1 C raw farro 
1/4 t salt 
For the soup:
2 T olive oil
4 carrots, peeled and chopped
1 medium onion, chopped
2 ribs of celery, chopped
1 lb. ground venison
1/2 t salt
few grinds from the pepper mill
2 C beef broth
Instructions
Rinse farro under cold water
Put in a saucepan with 3 C of water and 1/4 t salt 
Bring to a boil, then lower to a simmer and cook until chewy, about 25-30 minutes (I cooked mine about 10 minutes extra to account for the altitude)
Drain excess water
For the soup:
Heat oil in a Dutch Oven over medium heat
Add carrots, onion and celery
Cook until soft, about 8 minutes
Add venison and cook until browned, about 5 minutes
Add salt, pepper, farro and beef broth
Bring to a boil, reduce to a simmer and cook about 15 more minutes
This recipe will make your house smell wonderful and warm you up from the inside!