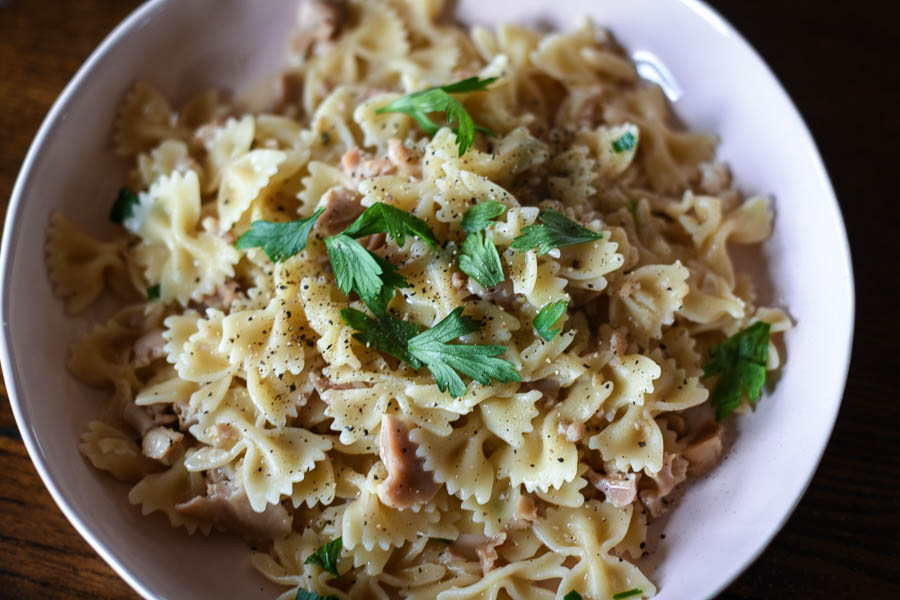 This recipe is a great way to get more clams in your life without spending a fortune on fresh clams. If you live in a landlocked state like Utah, buying fresh clams for linguine with clam sauce can be a bit iffy and expensive. This recipe isn't as good as linguine with clams on the coast or in an expensive restaurant, but it is pretty darn good for pasta with clams on a mountain, miles from the sea. It has lots of canned clams, white wine and garlic. You should try it!
Print
Clam Pasta
2 C canned clams, with juice (see the link in my store)
2 large garlic cloves, roasted 
1 T olive oil
1/4 C butter
1/4 c grapeseed oil  (or olive)
1/2 C Sauvignon Blanc or another crisp white wine 
1/3 C of chopped fresh parsley
1 16 ounce box of pasta 
Salt and pepper to taste 
Instructions
To roast garlic:
Slice off the top of a head of garlic to expose the cloves
Coat with olive oil 
Wrap in aluminum foil
Roast for 30 minutes at 400 degrees 
Squeeze out 2 or 3 cloves for this recipe and refrigerate the rest 
Mince the garlic 
Melt butter in a large skillet, add garlic and cook for a minute over low heat
Add grape seed oil and cook for a few more minutes 
Add wine and cook for a few more minutes 
Add clams with juice 
Heat over medium heat until it starts to boil
Cook pasta according to directions on box
Drain pasta and add clam sauce
Sprinkle with parsley and pepper from the grinder and a little salt if needed 
It's almost like being at the coast! Serve with a crisp Sauvignon Blanc and some crusty bread.
Other ways to use canned clams: https://therockymountainwoman.com/new-england-clam-chowder/
https://therockymountainwoman.com/prosciutto-and-clam-pasta/