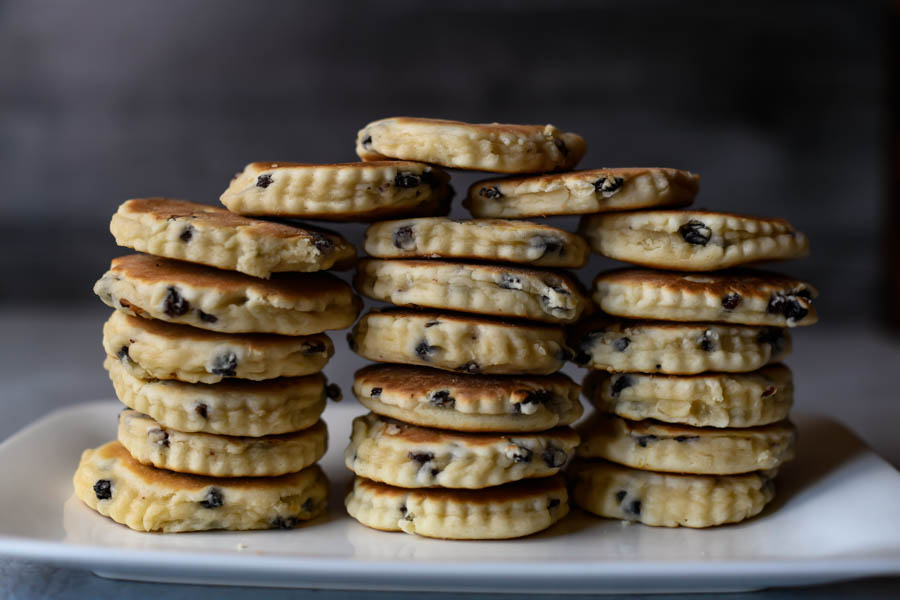 This is my grandmother's recipe for Welsh Cookies. It's simple and easy and makes a ton of cookies. Grandma used lard to make these cookies, I use Crisco. If Crisco kind of wigs you out, you can use butter. I believe though that unless you are on a strict diet for medical reasons, Crisco has a place in your kitchen. It probably shouldn't be an every day kind of thing, but nothing makes a lighter fluffier cookie or a flakier pie crust than old fashioned shortening.
Print
Welsh Cookies
Traditional Welsh Cookies 
1 1/2 C Crisco, lard or butter
2 C sugar
3 eggs, slightly beaten
1 C milk
5 C flour 
3 t baking powder 
1 1/2 t nutmeg
1 t salt
10 ounces currants 
Instructions
Cream the shortening and sugar together
Add eggs and mix thoroughly
Sift together flour, baking powder, nutmeg and salt
Add the flour mixture to the Crisco mixture, alternating with the milk, mixing after each addition
Fold in the currants
Roll half the dough out into a round, about 1/4 " thick
Cut into rounds with a cookie cutter or biscuit cutter
Cook in a cast iron skillet or on a griddle that's been wiped with a little Crisco a few minutes on each side or until they start to brown slightly – the perfect thing for this is an electric griddle or electric fry pan set at about 375 degrees 
Repeat with the other half of the dough
These are perfect with a cup of tea, Grandma preferred Constant Comment with sugar and milk.