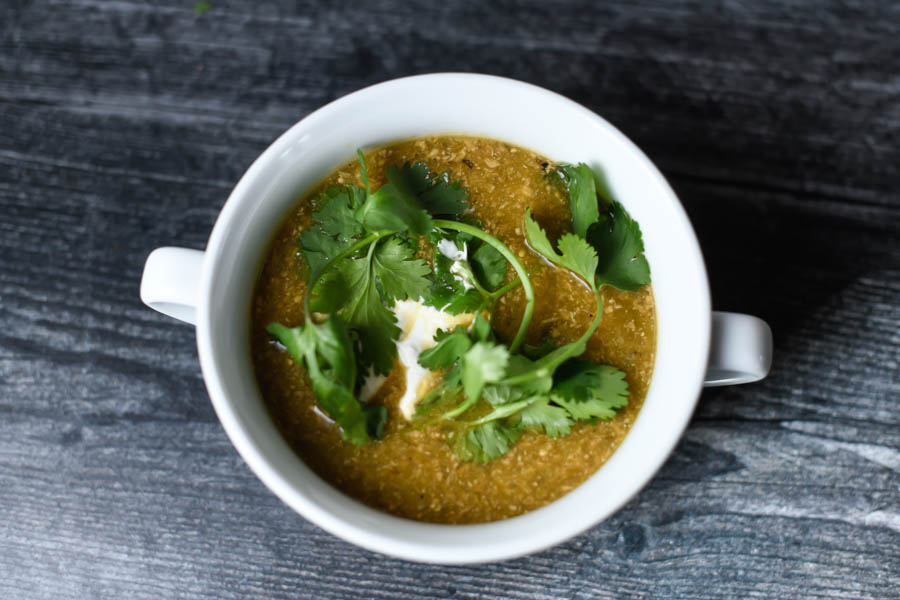 This is the best green chili I've ever made. It has just enough heat to make it interesting, but it isn't so hot that your kids won 't eat it. I strongly suggest you put a pot of this on the stove at the earliest possible moment and then just wait for it to become this magical green elixir that makes everything you eat better. The best way to eat it, though, is with a spoon and a warm tortilla. I don't really know anyone who doesn't like Green Chili, do you?
Print
Green Chili
Scale
Ingredients
2 Anaheim Peppers
1 small jalapeno pepper 
1/4 C vegetable oil plus a few T to roast the vegetables 
2 lbs pork shoulder, cut into cubes
1 medium onion, sliced 
2 cloves of garlic, minced
1 16 ounce can of crushed tomatillos
6 fresh tomatillos, husks removed & rinsed 
4 C chicken stock
Instructions
Preheat oven to 400 degrees
Place tomatillos, Anaheim peppers, jalapeno peppers and sliced onion on a baking tray
Sprinkle with a few T of oil and toss
Roast until the skin blisters and the onions start to char, about 15 minutes
Let cool then remove the stems and seeds of the chilis and most of the skin, chop roughly with the onions and tomatillos and set aside
Heat 1/4 C of oil in a large Dutch Oven till it shimmers over medium high heat
Sprinkle salt and pepper on the pork and add to the Dutch Oven and brown the meat, about 15 minutes, stirring continuously
Add roasted vegetables, chicken stock and crushed tomatillos
Cook over low heat for a few hours or until vegetables are soft and the meat is cooked through
Let chili cool for a while off the heat, then either take some of the chili and blend it in a traditional blender or use a stick blender to emulsify it a little
Serve with warm tortillas and lime slices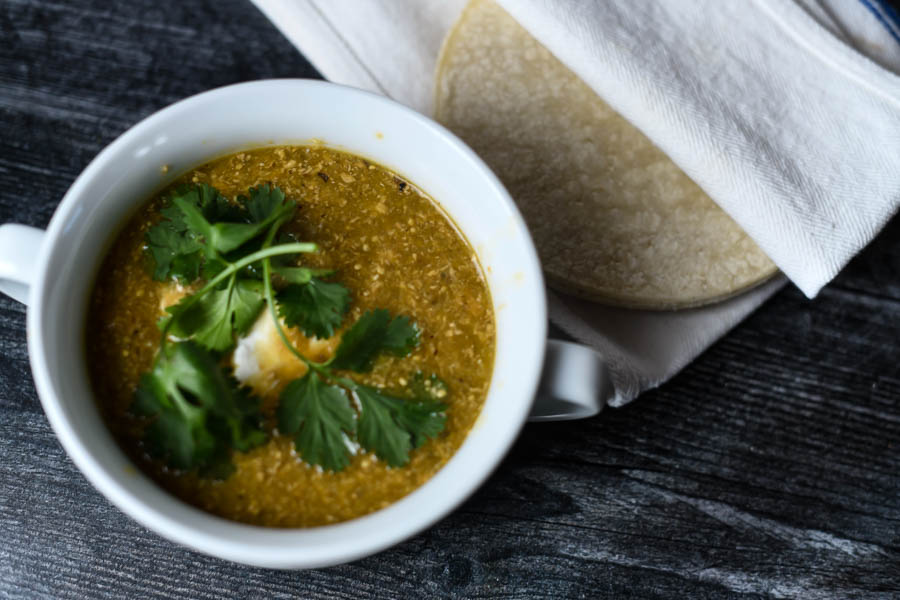 If you like your green chili a bit hotter, just add another jalapeno or two!