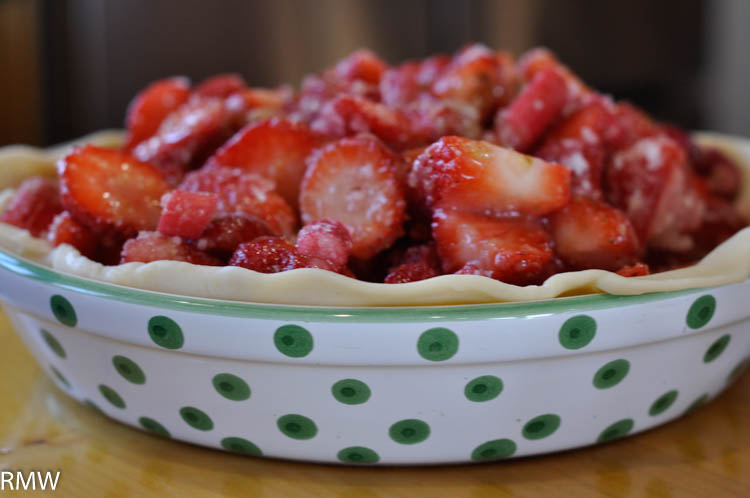 This, my friends, is the best strawberry rhubarb pie I've ever made (and I've made a LOT of strawberry rhubarb pies over the years). I found this recipe on the Food Network Website and it's the only strawberry pie I make anymore. It's absolutely the best way to end a beautiful summer meal.
Print
Best Strawberry Rhubarb Pie Ever!
For the crust:

2 cups

all purpose flour

1/2 cup

cake flour

3

t sifted powdered sugar

1/2 cup

butter flavored shortening

1/2 cup

salted butter
pinch of salt

1

egg

2

t vinegar

1/4 cup

ice cold water
For the filling:

2 1/2 cups

chopped, washed rhubarb

2 1/2 cups

washed and cut strawberries

1 1/2 cups

sugar

2

T minute tapioca

1

T all purpose flour

1/2

t lemon zest

1/2

t lemon juice

1/2

t cinnamon

1

t vanilla extract

3

T butter, cut in small cubes

1

egg white beaten with 1 t water

2

T raw or blonde sugar
Instructions
Blend the flours, shortening and butter with two knives or a pastry blender until the dough is pea size
Whisk the egg, vinegar and water together and incorporate into the flour and shortening mixture
Form into a ball and refrigerate for an hour or so
Divide the dough into two disks and roll one out flat big enough to cover the pie pan
Place the second disk in the pan, cover and refrigerate again for an hour or so
While the crust is chillin, make the fillin (hah!)
Mix the rhubarb, strawberries, sugar, tapioca, flour, lemon zest, lemon juice, cinnamon and vanilla extract thoroughly in a large bowl
When the crust has finished chillin, pour the fillin into the pastry lined pie plate (sorry)
Dot with the butter
Brush the edges of the pie crust with the egg white wash
Roll the other disk of dough and place on top of the pie
Cut slits for steam, brush the top with egg wash and sprinkle with the blonde sugar
Crimp the edges and cover with aluminum foil
Place on a cookie sheet in a preheated 425 degree oven for 15 minutes
Decrease the heat to 375 and bake another 45 to 50 minutes
You high altitude people (you know who you are), should increase the temperature to 400 for the additional 40 minutes.
Keep an eye on it so it doesn't get too brown!
Sit back and wait for the compliments!!