I watched Lidia Bastianich make braised chicken with olives on her television show a while back and it's been haunting me ever since. Potatoes and olives seem like such a lovely idea in the same dish! The flavor combination looked just perfect to me and so I muddled around on the internet and found a recipe that looked good on the food network and made it this weekend. I did change a few things to suit it to my taste a bit more but the essence is the same as Lidia's.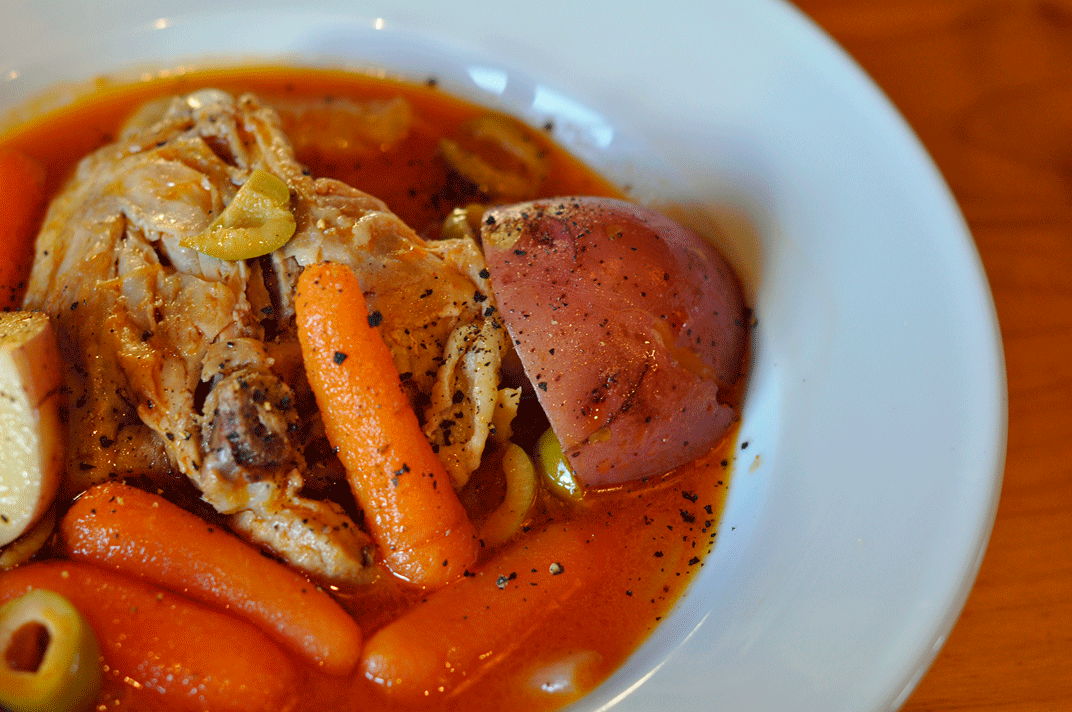 Print
Braised Chicken with Potatoes and Olives
8

skin on bone in chicken thighs

2

T olive oil

5

cloves of garlic

1/2

white onion, sliced

1 1/2 cups

baby carrots

2

T tomato paste

1

T chopped fresh sage

3

t chopped fresh rosemary

1/2 cup

dry white wine

8

small red-skinned potatoes, quartered

1/2 cup

pitted green olives plus 1/4 cup brine from the jar

1 cup

chicken broth

1 cup

water
kosher salt and pepper from the mill
Instructions
Season both sides of the chicken with salt and pepper to taste
Heat a large Dutch oven over medium high heat and add olive oil
brown chicken on both sides until crispy – about 5 minutes per side
Remove to a plate and set aside
Reduce the heat and add the garlic, onion, carrots, tomato paste, sage and rosemary
Cook scraping up any brown bits from the bottom of the pot for 3 or 4 minutes until the vegetables soften slightly
Add the wine and scrape the bottom of the pan again to get all the good bits up into the sauce
Add olives, brine and potatoes
Nestle the chicken in the pot then pour one cup of broth and one cup of water over it
Reduce the heat to medium low and cover
Simmer until the chicken is cooked through and the potatoes are tender, about 20 to 30 minutes
Sprinkle with salt and pepper
I served this with a chunk of Italian bread and a glass of Sauvignon Blanc and there were no complaints.  Actually,  no one spoke at all, they were too happy eating to bother with conversation.
When the family came up for air, the consensus was that as usual, Lidia knows what she's talking about when it comes to food!