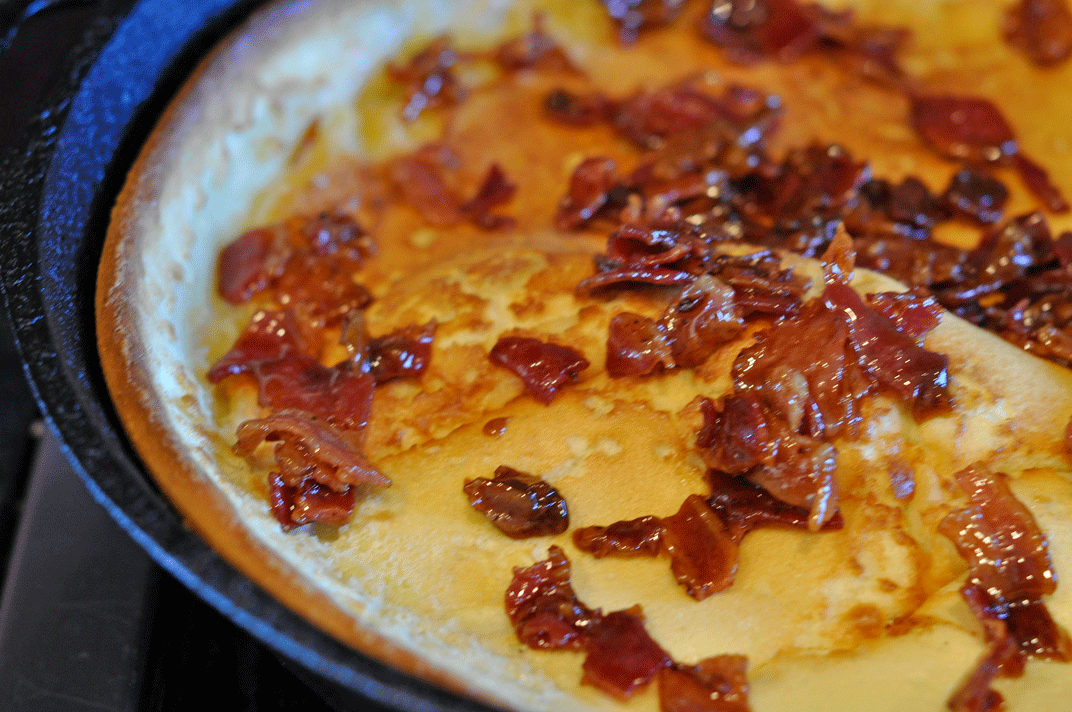 In the words of the great Dale Cooper, "Nothing beats the taste sensation when maple syrup collides with ham". (Gratuitous Twin Peaks quote). Ok, so it isn't technically ham we're talking about here but bacon (which is  ham's better looking and tasting cousin).
When my grandson spends the night he usually begins campaigning for a Dutch Baby for breakfast a few minutes after he walks in the door. I don't blame him, they're wonderful. One of my favorite food memories of my childhood is a Dutch Baby for breakfast or lunch. I hope he remembers my Dutch Babies and makes them for his grandchildren when he has them! Anyway, last weekend, he told me that we should combine his two favorite foods, bacon and Dutch Babies.  This was the result.
The intersection of salty and sweet, crunchy and creamy in this recipe is nearly perfect in my opinion (and my grandson's).
Print
Maple Glazed Bacon Dutch Baby
3

large eggs at room temperature

2/3 cup

milk at room temperature

1/3 cup

sugar

2/3 cup

all purpose flour

1/2

t vanilla

1/4

t cinnamon

1/8

t nutmeg

1/2

stick butter

4

slices of bacon

1/4

c real maple syrup
Instructions
Preheat oven to 450 degrees
Blend eggs in blender until frothy
Add milk and blend for a few pulses
Add sugar, flour, vanilla, cinnamon and nutmeg and blend thoroughly
Place 10″ cast iron skillet in oven and add butter
Watch until butter melts, then immediately add the pancake batter
Bake 18 to 20 minutes or until puffed up and browned
meanwhile:
Brown bacon in large skillet over medium high heat until crispy
Break into small pieces
Add back to pan with maple syrup
Warm and stir until bacon is covered in syrup
Spread bacon mixture on top of Dutch Baby and serve!