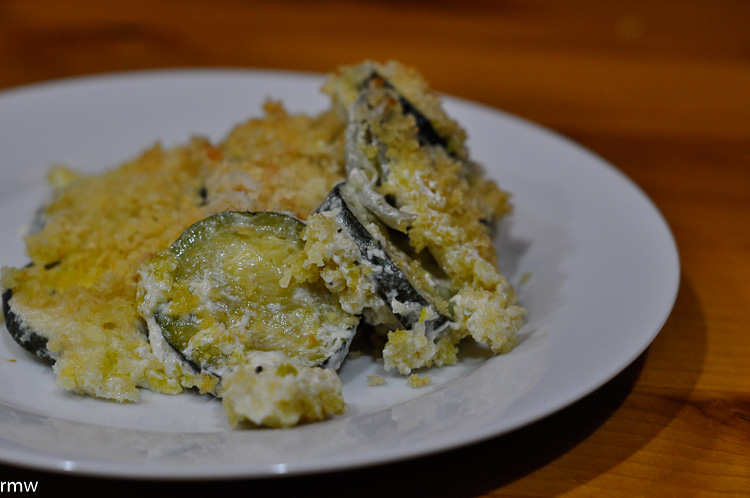 Zucchini can be a boon or a bust.  It's one of those things that delight us in early summer, but by about the middle of August, we are ready to throw in the towel and just let it rot on the vine.  That, however, is completely avoidable now that you have this recipe!   This recipe will carry through the entire summer and into fall.  This recipe is so creamy and decadent, you might even find yourself buying zucchini in the middle of winter just so you can make this gratin.  When we all get to the end of our collective ropes, there's always zucchini bread as a last stand against the onslaught.  This gratin might even make you put your zucchini bread recipe on a back burner forever!  It's that good.
Print
Cheesy Zucchini Gratin
4

t olive oil

3

medium zucchini, sliced into rounds

1

small red onion, halved and sliced thinly

1/2

t kosher salt

1/2

t freshly ground black pepper

1/4

t ground nutmeg

1 1/4

C heavy cream

1

C grated Parmesan

1

C panko
Instructions
Place the oil, zucchini, onion, salt and pepper in a casserole dish, toss to combine
Bake in a preheated oven at 425 degrees until the vegetables are tender, about 25 minutes
Whisk together the cream and nutmeg and pour over the vegetables
Sprinkle the Gruyere over the top and bake another fifteen minutes or until the cream begins to bubble
Combine the panko and Parmesan and sprinkle over the top
Bake another 10 minutes at 425 degrees or until the panko starts to brown
Keep an eye on it after you add the cream so it doesn't overcook.