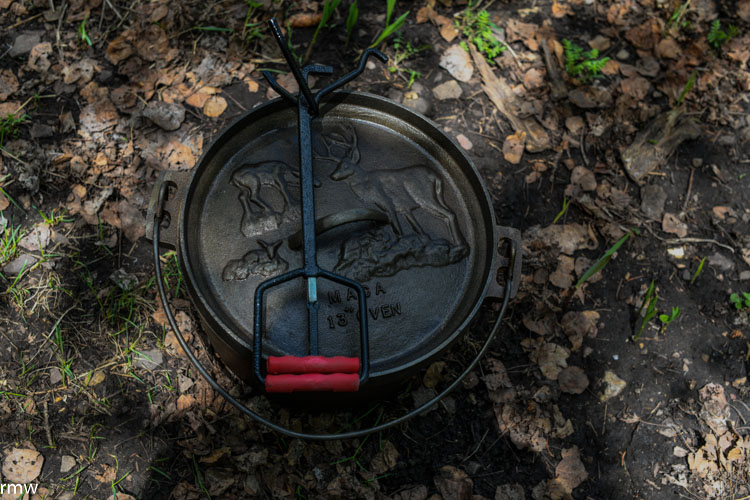 Cooking over a campfire demands an entire different skill set than cooking on your stove top.  I don't have that skill set, but I'm working on on it!  This particular recipe turned out so good that I decided to share it, even though my wood fire cooking skills are still a work in progress.  If you don't have access to wild boar, just use a pork roast.  I love wild boar and this recipe is the best way to make it, slow and low is the secret with boar, in my humble opinion.
Print
Wild Boar Green Chili on the Campfire
1

3 -5 lb wild boar roast (or pork roast)

2

medium jalapenos

8

medium tomatillos

1

t cumin

1/2

t coriander

1

t salt

1

large onion

2

32 oz cartons of beef broth

1

28 oz can of green chili enchilada sauce
Instructions
Put the roast and one carton of beef broth in a dutch oven and place over coals
Let it simmer for 2 hours, checking the liquid level occasionally – add more broth or water if needed
Clean the tomatillos, remove the casings and rinse under water
Peel the onion
Roast the jalapenos, tomatillos and onion over the fire using a grill, leaving the jalapenos and tomatillos whole, cut the onion in half
Chop all the vegetables (take the stems off the jalapenos) and add to the pot with the other carton of broth, cumin, coriander and salt
Let cook another 2 hours, checking the liquid level occasionally
Add the enchilada sauce and more water if necessary
Let cook another couple of hours, checking the liquid level occasionally and adding more water or broth if needed
Start cooking when the campfire is reduced to coals, add more wood as needed to keep a steady low heat.  Some people use charcoal instead of wood because it's easier to keep the fire going.  I'm going to try that next time.
Serve with tortillas
While we were making the chili, this young bull moose was hanging around, keeping an eye on us!