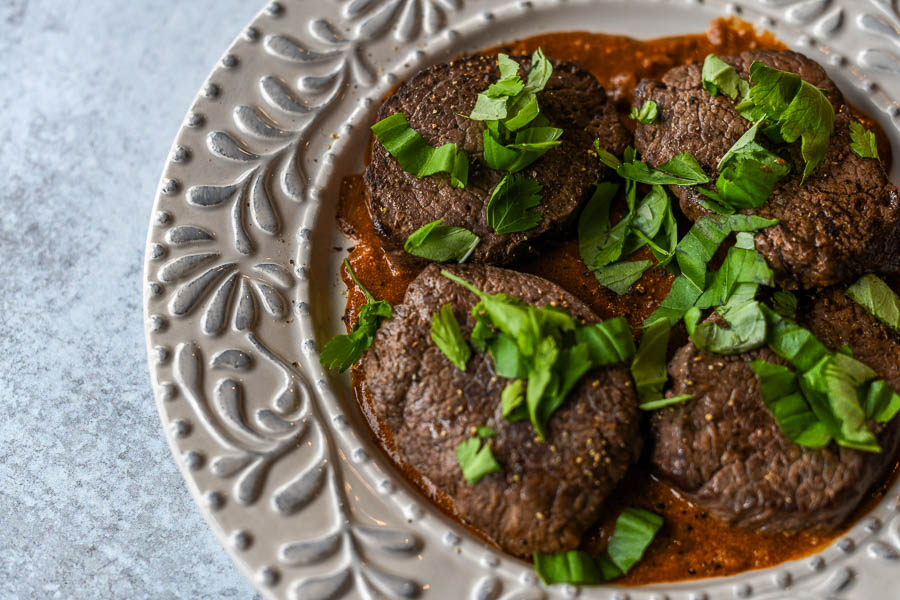 Originally this dish, named for Diana, Goddess of the Hunt, was served with game as in this recipe. It was reinvented in New York in the 50's where it was made with beef steak during the era of table side cooking because the brandy could be set on fire, making it a very dramatic dish in fine dining restaurants.
I don't like setting my food on fire (on purpose) so we won't do that here. I substituted whiskey for the brandy to give the recipe a more western feel and because High West Whiskey is made in my little town and I love using local ingredients, but you can use brandy if you're fancier than I am.
This can also be made with venison or beef steak if you don't have any elk.
Print
Elk Steak Diane
Elk steak with a complex, creamy sauce made with whiskey  
Scale
Ingredients
1/2 lb of elk steak (or venison or beef tenderloin)
2 T butter
1/2 white onion, chopped
1/2 C beef broth
2 cloves of garlic, minced 
1/4 C whiskey – I used High West 
1 T Dijon mustard
1 T tomato paste
2 T Worcestershire Sauce
1/3 C half and half 
chopped basil for a garnish 
Instructions
Pat elk dry and saute in the butter over medium heat until it's browned, about 3 minutes on each side for medium rare 
Remove from pan and set aside, cover with foil
Add the onion to the pan and cook for a minute or so
Add garlic and cook for another minute
Deglaze pan with whiskey, scraping the bottom of the pan to get all the good bits
Let the alcohol cook out of the sauce for a few minutes
Whisk in beef stock, tomato paste, Worcestershire and mustard
Let it simmer over medium heat for 4 minutes or until reduced to a glaze
Turn off the heat and let sit for a minute
Add cream, stir to combine 
Serve with the steak 
Garnish with basil 
Serve with a nice, hearty cab and some crusty bread to mop up the rest of the sauce