Sometimes, no matter how much salmon/quinoa/tofu/healthy stuff I eat, I just intensely crave a big piece of rare, red in the middle, charred on the outside, flank steak.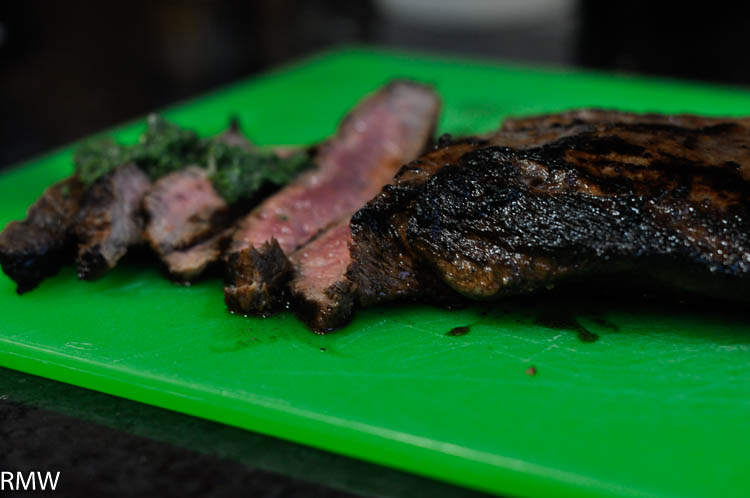 This just speaks to my carnivorous soul in a way no amount of boneless skinless chicken breast can.  You know what I'm talking about, don't you?  Sigh.
If you add a spoonful of bright, happy chimmichurri and a glass of merlot, I'm a pretty happy girl.  Actually, I'm a REALLY happy girl!
Flank Steak with Chimichurri
Author:
Rocky Mountain Woman
Ingredients
1 large flank steak - about 1 or 2 lbs
marinade:
½ cup chopped cilantro
¼ cup of fresh lime juice
2½ T olive oil
4 cloves of garlic, minced
¾ t salt
Chimichurri
1 shallot
1 jalapeno
1 cup cilantro
1 cup parsley
¼ t salt
few grinds of pepper
juice of 1 small lime
Instructions
Mix the marinade and put it in a large plastic bag with the flank steak, shaking it a bit
Refrigerate for 2 or 3 hours or overnight
Take the steak out and let it sit for a half hour to an hour
Grill on high heat for about 5 minutes on each side or to an internal temperature of 135 degrees
Remove from the grill and let it rest
Put the shallot, jalapeno, cilantro, parsley, salt, pepper and lime juice in a small food processor
Process until it's thoroughly minced