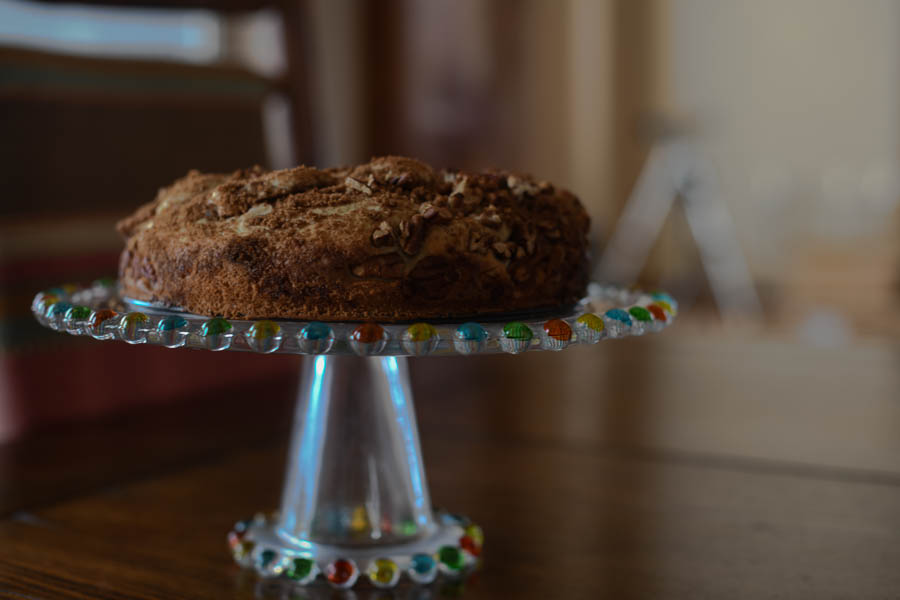 This classic recipe for German Coffee Cake has been adjusted a bit because I firmly believe you can never have too much topping on a cake. It's simple to put together and bakes in a flash for those mornings when you are just not quite on top of things, but really want something yummy for breakfast.
Print
German Coffee Cake
German Coffee Cake with pecans 
For the cake:
2 C All-purpose flour
1/2 C sugar
1 t salt
2 t baking powder
1/4 t salt
1/2 C sugar
1/3 C butter
2 large eggs 
1/2 C milk 
1 t vanilla extract 
For the topping:
3/4 C chopped pecans 
1/2 C brown sugar
2 t cinnamon 
1/2 C flour 
Instructions
Preheat oven to 375 degrees 
Butter a 9 inch cake pan
Stir the flour, sugar, baking powder and salt in a large mixing bowl
Add the butter, cutting it in with two knives or a pastry cutter
Add eggs one at a time, mixing after each addition
Add milk and vanilla, mixing until smooth
For the topping:
Stir together brown sugar, flour, cinnamon and pecans
Put 1/2 of the batter in prepared pan
Add 1/2 of the topping
Put the rest of the batter on top of the topping
Add the rest of the topping 
Bake at 375 for about 25 minutes, or until a toothpick comes out clean
Serve with coffee!