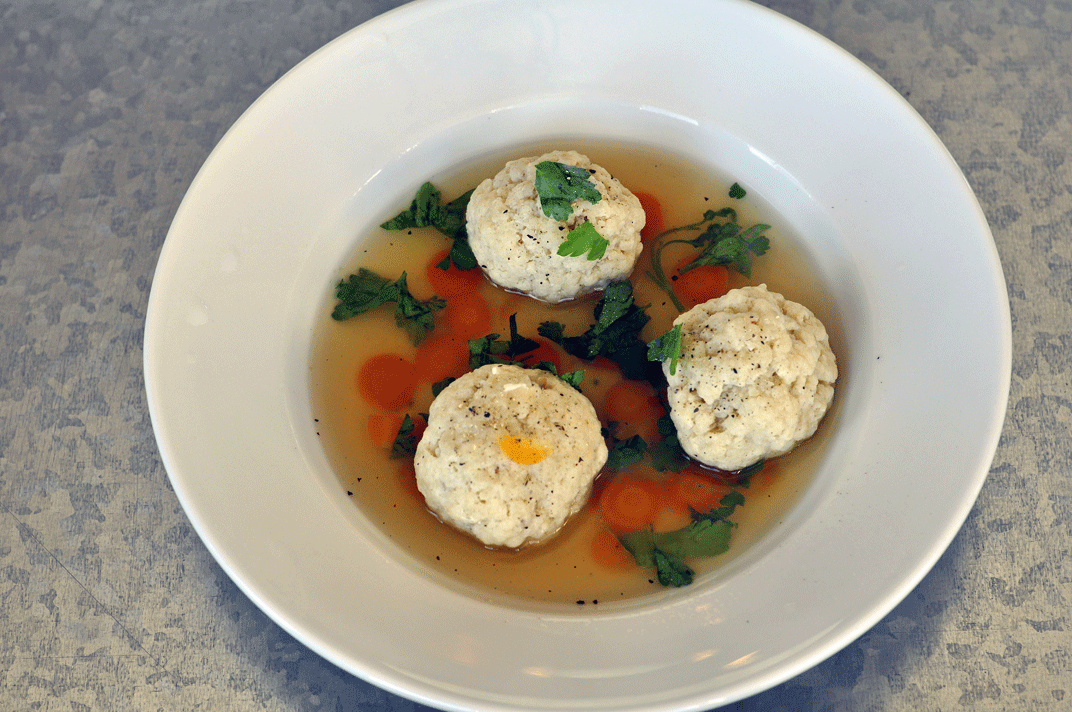 I lived for many years in South Florida where there's a Jewish Deli in almost every strip shopping center. While I love Utah, and Park City has an especially vibrant and exciting food culture, sometimes I really miss a bowl of matzo ball soup or a bagel with a smear. I was recently in South Florida with my son and grandson for a few days and there was a lovely Jewish deli right by our hotel. My son complained a bit about the 20 minute wait, but I was determined we would have breakfast there. When we were finally seated, I couldn't decide on what I wanted so just ordered several of my favorites.
The waitress looked at me with raised eyebrows. "Is that all?" she said and then looked at my son.  When he ordered for him and his little boy, it dawned on her that I was planning on eating the following: bagel and lox, egg salad on the side with matzo ball soup as a starter and assorted pickles. I ate every single bite (well, my son had a little bit of the salmon).
I miss Jewish Delis so much. I alternated between Deli food, Falafal sandwiches from the Mediterranean restaurant around the corner, and Cuban Sandwiches for lunch when I lived in Florida. It was heaven. When I go back to visit family I have a list of restaurants I have to hit or I get cranky. Jewish Delis are on the top of that list.
In an effort to bloom where I've been replanted, I've decided to try and recreate some of the Jewish food I adore from South Florida. I don't have a Jewish grandmother to teach me, nor do I have a drop of Jewish blood to help guide me, just a respect and love for what comes out of Jewish kitchens.
I'm starting with one of my all-time favorites, Matzo ball soup. I apologize profusely to REAL Jewish cooks everywhere for any discrepancies in ingredients or techniques, but you have to understand that my obsessive compulsive food nature just won't let me miss Jewish food anymore!
Print
Matzo Ball Soup
3 quarts

of chicken stock (homemade if you have it)

2

eggs, lightly beaten

1/2 cup

chopped carrot

2

T vegetable oil

1/2 cup

matzo meal

1

t salt (Kosher, of course) – if you're not using homemade stock, cut back a bit on the salt
few grinds of black pepper

1

sprig chopped parsley
Instructions
Mix all ingredients except the chicken stock together in a large bowl
Add enough chicken stock to make the dough easy to handle (a tablespoon or two)
Refrigerate for 30 minutes
While the dough is in the refrigerator, heat a large stock pan full of water until the water is simmering
Also, heat the stock in a large pan, add the carrots and let it cook until the carrots are soft – about 20 to 30 minutes
After carrots are soft, add parsley then let simmer on low until the matzo balls are ready
Form dough into small balls
[url href="https://therockymountainwoman.com/wp-content/uploads/2015/01/MATZO-BALLS.gif"][/url]
Drop into boiling water and let cook until done through – 30 to 45 minutes
Put a matzo ball or two into a large bowl and spoon on broth. Add a little more chopped parsley right before you serve it.