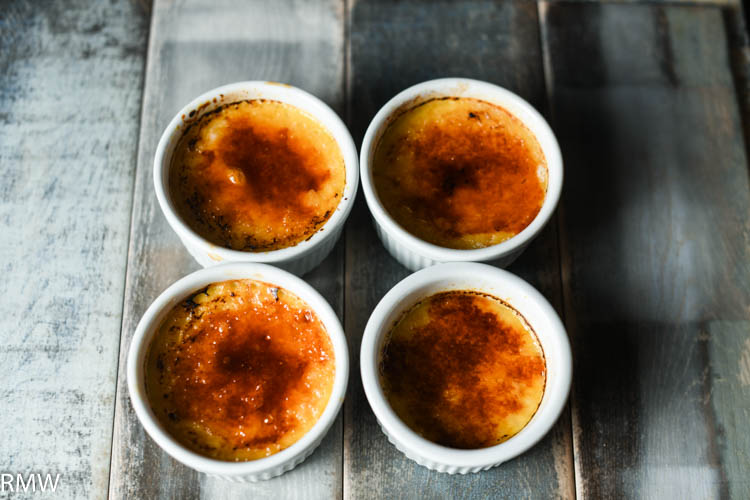 Creme Brulee' is hands down my very favorite dessert. The crunch, the cream, the sweet perfection of it is unbeatable in my opinion. I don't make it very often because when I do I can't stop until they are all eaten, but I had family staying with me who would be more than willing to save me from myself, so I decided to make some last weekend.  I've had friends tell me that it is difficult to make, but it really isn't hard at all.  The secret is to let the eggs come up to room temperature before using them and adding the warmed cream a little at a time.  I've made this recipe dozens of times and I've never had it fail.  It's the perfect ending to an elegant meal or a great snack while watching a movie.  Try it and if it doesn't work out, email me and I'll help you trouble shoot!
Print
Vanilla Bean Creme Brulee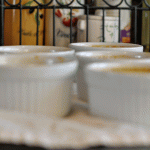 Scale
Ingredients
10

egg yolks (at room temperature)

1

vanilla bean, split and scraped

3/4 cup

sugar

4 cups

heavy cream
sanding sugar for the tops (or regular sugar if that's what you have on hand)
Instructions
Warm cream in a saucepan with the scraped bean caviar until almost boiling, don't let it boil!
Whip the egg yolks with the sugar until thick and thoroughly mixed
Slowly add the warm cream to the egg mixture, whisking constantly – a half a cup at a time
Once most of the cream is incorporated, you can speed it up a little bit when adding the rest of the cream
Pour into ramekins and place in a baking dish
Add boiling water to the baking dish until the water starts to come up on the sides of the ramekins
Bake 30 minutes at 325 degrees or until centers are starting to set 
Let cool then wrap in plastic wrap and refrigerate for at least an hour
Sprinkle the tops with sanding sugar and lightly torch the top with a kitchen torch until the sugar begins to melt
It's so worth the trouble and such an impressive dessert to serve guests. Do all of it except the torching part before hand and just look like a pro at the end of dinner with your torch.
This one is worth the little bit of extra trouble, but really it's not much more work than making a pie.