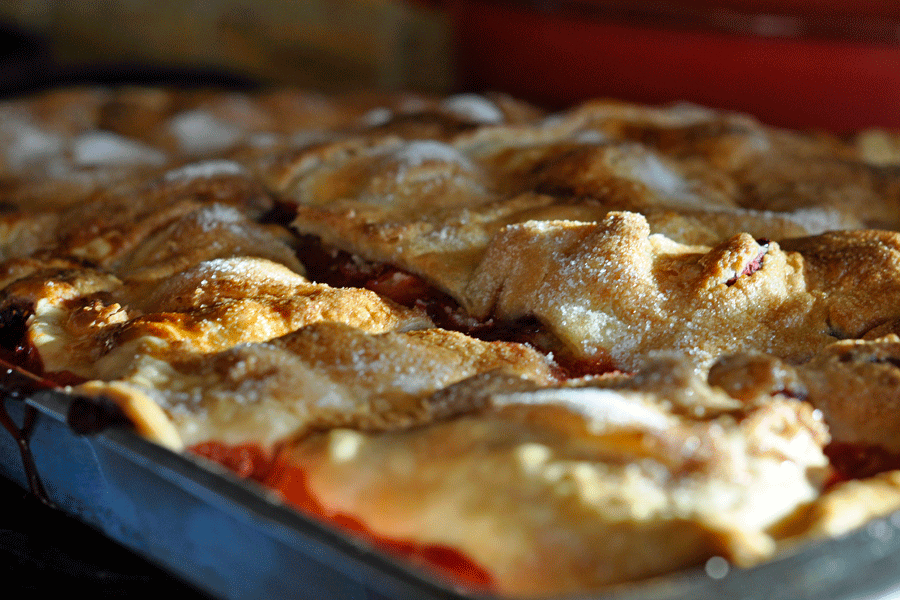 Martha Stewart is my hero (except for the whole insider information/prison situation) especially when it comes to baking and even more so when it comes to this Strawberry Rhubarb Slab Pie. I took this to a pot luck and the host sat with it on his lap, eating from the pan after the rest of the guests left. It's definitely on my list to make again and should be on your list to try. The only change I made was to add a teaspoon of vanilla to the filling.  In my opinion, it enhances the orange flavor a bit.  You can leave it in (I would if I were you) or stay true to Martha' recipe. She is the expert after all!

Strawberry Rhubarb Slab Pie
Author:
Rocky Mountain Woman
Prep time:
Cook time:
Total time:
Ingredients
For the crust:
5 cups all-purpose flour, plus more for rolling
2 T granulated sugar
1 t table salt
2 cups cold unsalted butter, cut into ½ inch pieces
1 cup ice water
For the filling:
2 lbs strawberries, hulled and halved
2 lbs rhubarb, cut into ¾ inch pieces
¾ cup granulated sugar
⅓ cup packed light-brown sugar
⅓ cup quick-cooking tapioca
1½ packed teaspoons of grated orange zest, plus 2 T juice
2 large egg yolks, lightly beaten with 2 teaspoons of water
½ cup sanding sugar (optional) (not really)
1 t vanilla (optional) (not really)
Instructions
Crust:
In a food processor, pulse flour, granulated sugar and salt until combined
Add butter and pulse until mixture resembles coarse meal
With machine running, add 1 cup ice water
Pulse until dough is crumbly but holds together when squeezed
Divide dough into 2 disks, wrap tightly in plastic and refrigerate at least 1 hour (or up to overnight)
Preheat oven to 400 degrees
Make filling:
In a large bowl toss together strawberries, rhubarb, granulated sugar, light-brown sugar, tapioca, orange zest, orange juice and vanilla
Lightly flour a work space and roll out one disk of dough into a 12 x 16 rectangle
Transfer dough to a 10 x 14 inch jelly pan
Press gently to fit pan
Fill with fruit mixture
Roll out remaining disk into a 11 x 15 rectangle
Place atop pie, pressing and crimping edges
Brush crust all over with egg-yolk water mixture
Sprinkle with sanding sugar
Cut slits in top to vent
Place pie in oven, reduce temperature to 375 degrees
Bake until crust is a deep golden brown and juices are bubbling in center 55 to 65 minutes
Cool an hour before serving
Sit back and wait for the compliments to roll in!