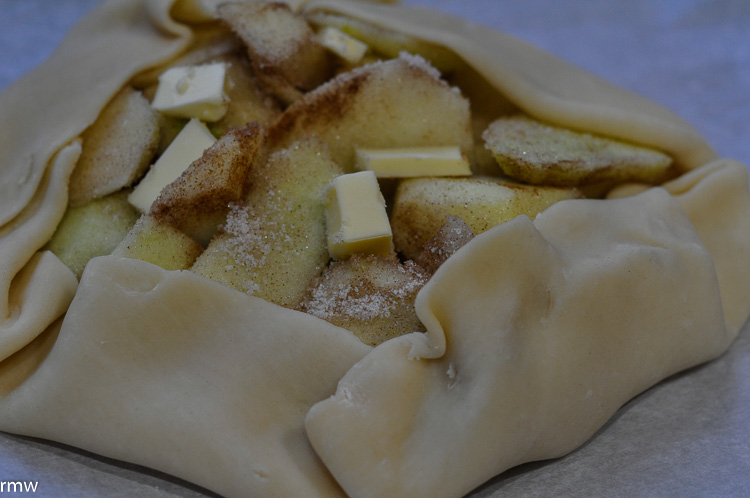 I knew I would fall in love with Alice Waters when I noticed she had a recipe for Crab Apple Jelly in one of her cookbooks.  My mother in law made crab apple jelly every fall and when I can get my hands on some crab apples, I try to do the same thing.  In fact, this spring I've decided to plant several crab apple trees in the hopes of getting some fruit.  At this altitude it's sometimes hard to get fruit trees to grow, and when they do, the deer seem to like to strip their branches, but we'll see.  It's worth a shot.
I learned so much from my mother in law, how and why to fry green tomatoes, how to feed your family from a kitchen garden, how to freeze and can produce and most importantly, how to make crab apple jelly.
Fruit galettes are one of my favorite ways to end a meal and this one, glazed with crab apple jelly, is absolutely beautiful.  Alice serves this at Chez Panisse from what I understand, so you know it's going to be good.  Galettes are relatively healthy as far as desserts go and come together quickly.  If you use already made pie crust, they're so easy it seems a little like cheating!  I, of course, would never use premade pastry dough (cough cough), but you are the boss of you and you can do whatever you want!  I've included a recipe for pie dough just in case you want to go full on Martha and make your own.
Print
Crab Apple Glazed Galette
Crust:

2

C all purpose flour

1

t sugar

1/4

t salt

1 1/2

sticks of unsalted butter, cut into

1/2

" pieces

7

T ice water
Filling:

2 1/2

lbs of apples, peeled, cored and sliced

2

T unsalted butter, melted

1/2

C sugar

1 1/2

t cinnamon

2

T crab apple jelly warmed up until it liquifies (if necessary, add a little water)
Instructions
Crust:
Combine flour, sugar and salt in a large mixing bowl
Cut 4 T butter into the flour mixture with a pastry blender or two knives until the biggest pieces of butter are the size of large peas
Dribble the ice water into the flour a little at a time, stirring after each addition until the dough just holds together
Divide the dough in half, form into two balls and cover with plastic wrap
Refrigerate 1/2 and freeze the other for another time
After 30 minutes or so, roll the refrigerated dough out into a 14 inch circle
Transfer the dough to a parchment covered baking sheet
Arrange the apple slices on the dough
Mix the cinnamon and sugar together and sprinkle over the apples
Turn the sides up all around, pinching as you go
Brush the dough and apples with melted butter
Warm up the crab apple jelly and brush over the top of the entire galette
Bake about 45 minutes at 350 degrees or until the crust browns and the apples carmelize a bit
The cool thing about making a tart instead of a pie is that it's supposed to look a little messy so it doesn't matter if the edges are perfect.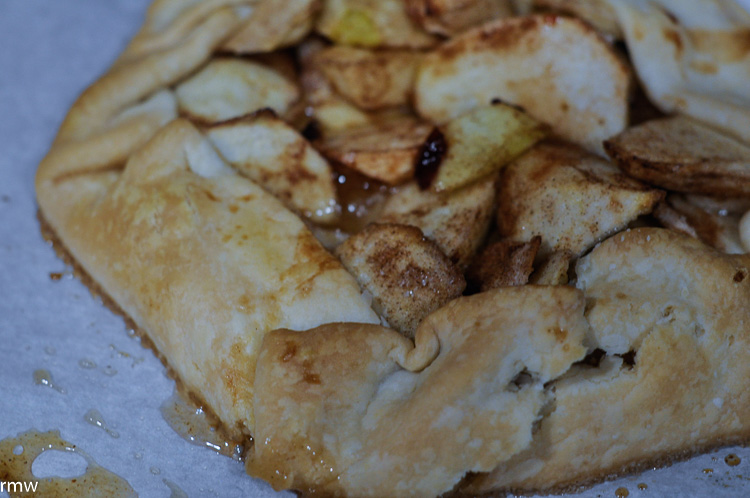 This is even better with a little vanilla ice cream.