Written by Rocky Mountain Woman on October 1, 2014 – 12:16 pm -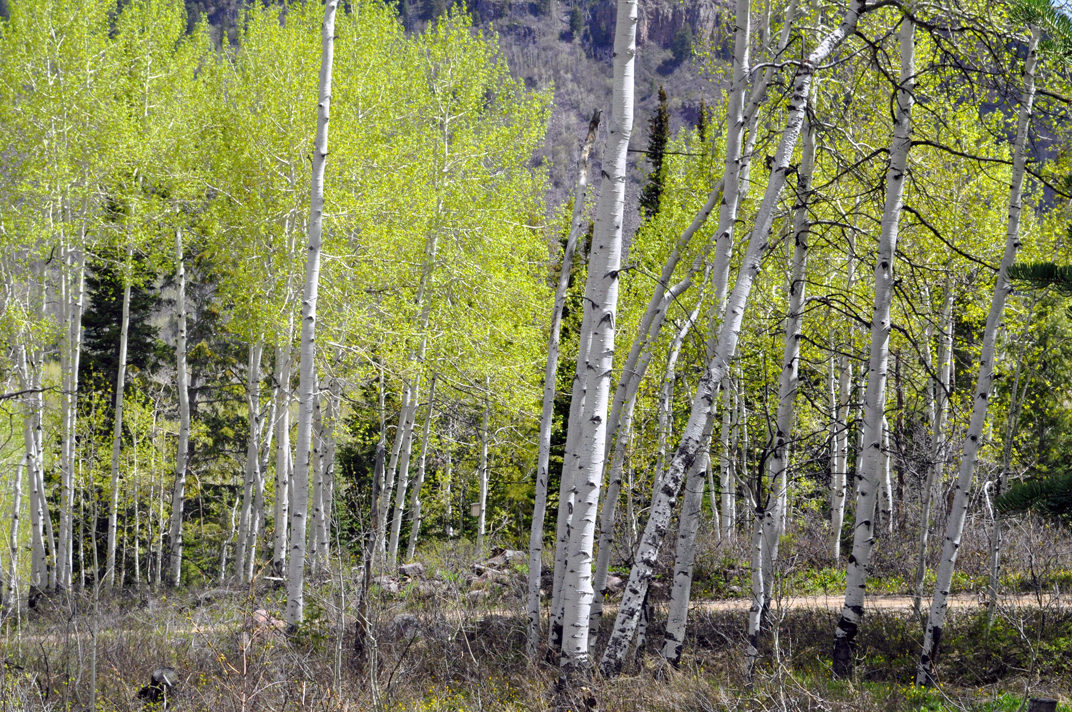 This is where I left him, but he's not here. He may be in the smiles of his children, the wail of the siren at the Search and Rescue barn down the street (a job he loved so much), the wind in the aspens, the depths of my heart, but he's not in this matter of fact little graveyard.
The mountains I love keep watch over his grave, but I'm not sure why they do because he isn't here. If he was here, I'd know it. I'd sense his gentle spirit in the mountain breeze.
A few graves down, pink plastic flowers and a unicorn on a small marker, 2008-2011. Someone's little girl. Everyone here is someone's child, even those who lived long enough that their lucky parents never had to leave a child in a graveyard.
My mother-in-law had a saying, "That'll take the vinegar out of you." She lost a son too early, she knew exactly how little vinegar a person had left afterwards. She died a few months before he did, thank God. If there's anything worse in this life than burying a child, it would have to be burying a grandchild. My own sweet parents weren't as lucky. It was the beginning of my mother's slow steady decline. All she ever wanted out of life was for her children to be happy, so it hit her especially hard. She was never the same. None of us were. She just checked out. Done. No more. Can't blame her. I'd join her if I had the nerve.
I lie about how much I come here so people don't start giving me that sad look again. It'll be 10 years next week, so some of the people I know now never even knew him, don't know about this particular pain in my life. I like it that way, it's easier. Even my oldest friends treat me for the most part like they did before, it's been long enough, hasn't it? They think so and that's fine with me. I certainly don't need to be reminded. My heart reminds me every day.
I started to write again with the express purpose of putting the tsunami of grief into words. I was paralyzed for so long, heart shrinking, bones melting. I took a class at the U to get over the paralysis, start getting my thoughts on paper. I thought it would be therapeutic. It is. The first night in class, the instructor asked us to write a page about the worst thing that had ever happened to us. I sat there stunned with the knowledge that it just wasn't possible. I wrote an entire page that said over and over, "It's too soon, it's too soon, it's too soon." The instructor didn't say anything to me when she read my paper (not out loud, thank God), but she did give me that sad look I've come to hate so much.
I came here to cry today but not for me. One of my dearest friends lost her mother a few days ago and she's struggling so I am too. My phone rings, it's her so I answer. She wants to talk to me about the arrangements for her mom's funeral. She has a warped sense of humor, I love that about her. She makes me laugh, she always makes me laugh, I love that about her even more.
She's got a cold and needs some help getting things together. I'm grateful for the distraction. I start my truck and drive away, turning back for one more look. The mountains are still there, the graves all neatly lined up, the plastic flowers, unicorns and twirling windmills. It's all there except for him.
This post is in honor of the letter "T" and part of Jenny Matlock's Alphabet Thursday. For more "T" posts, please click here http://jennymatlock.blogspot.com/
Posted in
She Shoots
,
She Writes
|
7 Comments »
Written by Rocky Mountain Woman on September 26, 2014 – 5:53 am -
I've followed Left Coast Cowboys for a long time now. Lisa's living the life I would if I weren't such a chicken! I have so much admiration for someone who just follows their dreams no matter where they take them and well, she has absolutely adorable dogs and I'm a sucker for anything with four legs.
Anyway, after reading her post on the earthquake in Napa,I decided to attempt to find and bring to your attention some Napa area wines I think you might enjoy. Since I live in the land of only State run wine stores, it's hard to find what I'm looking for so I'm planning a trip out there next month to pick up some additional bottles to try. It's a lot of work, but I'm willing to do it for you guys because I love you so much. If a trip to California and spending all winter testing Napa Valley wines is what you need so you can help out wineries who are struggling because of the earthquake, then I'm the girl to do it for you!
As Lisa points out, Napa Valley isn't just about fancy wineries with all kinds of money, it's about the every day people who work at those wineries and depend on them for their living. Wine and the tourism that goes with it are a big deal there and without wine, a lot of people would be out of work.
I guess I can understand that a little better living in a resort town. Without skiing, Park City would be a pretty sad place. On a side note, our local resort forgot to renew their lease with the people who own the land the ski runs sit on. So in effect, the resort has all these buildings and lifts without a place to actually ski. How do you forget something like that? The owner of the land decided that if the resort wanted to renew their lease, it would be at a much higher rate. It's been quite a bit of drama all summer here: would there be skiing in town or not?
We do have other resorts but this one is the one that is right in Park City and if it was closed for the season, the whole town would suffer. The people who own and work in the restaurants, clothing shops, hotels etc. etc. A LOT of people would be put out of work, lift operators, servers, hotel maids, drivers. It's not just the owners who lose out, it's the every day person just trying to make a living and take care of their families.
WHEW! Guess I got a little off track there.
At any rate, drink Napa and Sonoma wines and let me know if you find one you like and I'll post it here. I'm going to try to do the same even before my trip so stop by when you have a minute and check in to see what I'm drinking.
Cheers!
RMW
Posted in
She Drinks!
|
3 Comments »
Written by Rocky Mountain Woman on September 24, 2014 – 12:36 pm -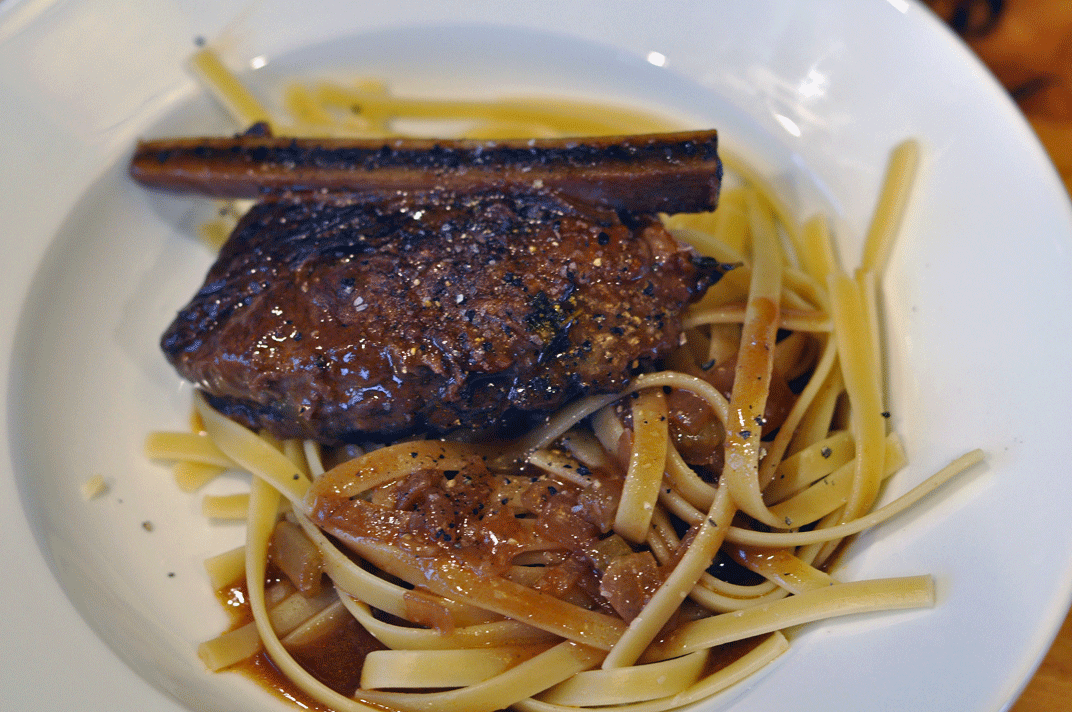 Short Ribs!
I love short ribs braised in wine, especially on a cold fall Sunday when I have time to let them slowly simmer
Ingredients
1 celery stalk, chopped
1 carrot, chopped
1 onion, chopped
1 T butter
½ small can tomato paste
3 T flour
2 cups beef broth
2 cups red wine
6 meaty short ribs
noodles
Instructions
Salt and pepper the ribs generously, then set aside
chop the vegetables
then melt the butter in a large dutch oven and cook the vegetables until the onion is translucent and the carrot and celery slightly softened
Stir in tomato paste then add flour, let it cook stirring constantly for about 3 or 4 minutes
add the wine and stock, heat to a simmer
In a large frying pan brown the ribs on both sides then place them in the dutch oven
Cook covered at a simmer for two hours then uncover and cook another hour on low heat until the sauce thickens a bit and the meat falls off the bones
Serve with buttered egg noodles & the rest of the wine - Cabernet Sauvignon is perfect!
This post is in honor of the letter "S" and part of Jenny Matlock's Alphabet Thursday. For more superb "S" posts, please click here 
http://jennymatlock.blogspot.com/
Tags:
Main Dishes
Posted in
She Cooks
|
13 Comments »