Written by Rocky Mountain Woman on July 16, 2014 – 12:34 pm -
If wishes were horses, beggars would ride
On wild white stallions with fire in their eyes!
Ok, so I made up the second line.
What would you wish for if you were given five wishes?
I think I would wish for:
1. The safety and well being of children everywhere.
2. A house on the Oregon coast! sigh….
3. Sleep. Being able to sleep without chemical intervention would be life changing.
4. Enough money to retire right now!
5. More time to write (see #4).
What's your top five?
Posted in
She Shoots
,
She Writes
|
13 Comments »
Written by Rocky Mountain Woman on July 9, 2014 – 12:08 pm -
So easy peasy – the perfect thing for quick summer meals.
Ingredients:
1 lb fresh asparagus
2 T olive oil
Kosher salt
Pepper from the mill
3 T butter
1/2 t dried dill
1/2 t dried parsley
Wash the asparagus, trim off the white part on the bottom and dry with paper towels
drizzle with olive oil, salt and pepper, roast in a 425 degree oven for about 10 minutes
mix the butter with the dried seasonings
put the butter on top of the asparagus to melt as soon as it comes out of the oven
move to a serving dish or just eat if off the pan!
Print This Recipe
This post is in honor of the letter "H" and part of Jenny Matlock's Alphabet Thursday. For more helpful "H" posts, please click here http://jennymatlock.blogspot.com/
Tags:
vegetables
Posted in
She Cooks
|
19 Comments »
Written by Rocky Mountain Woman on July 4, 2014 – 6:44 am -
These are the richest, crumbliest pecan shortbread cookies I've ever had.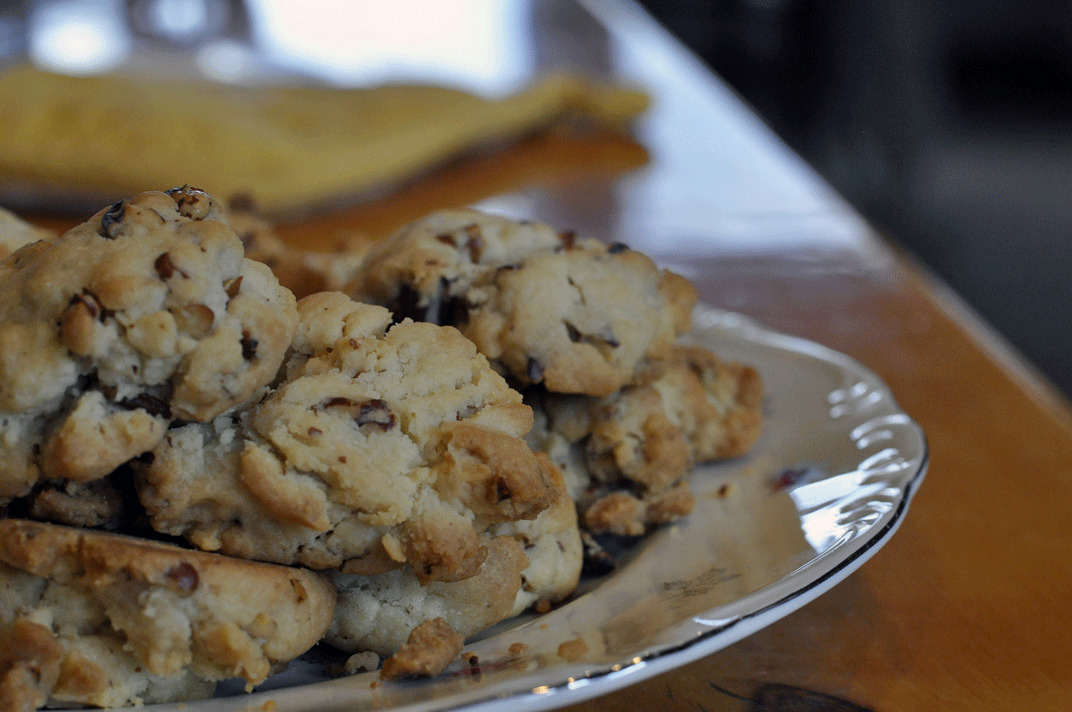 Ina's Pecan Shortbread
Crumbly, rich pecan shortbread cookies
Ingredients
¾ lb unsalted butter at room temperature
1 c sugar
1 t vanilla extract
1 t almond extract
3½ cups all-purpose flour
¼ t salt
1/ ½ cups of small diced pecan, toasted
Instructions
Toast the pecans on a baking sheet for 8 minutes at 350 degrees before chopping
Mix together the butter and sugar until they are just combined
Add the vanilla & almond extracts
In another bowl sift together the flour and salt then add to the butter/sugar mixture
Add the pecans and mix on low speed until the dough comes together
Dump on to a floured surface and shape into a flat disk
Cover with plastic wrap & chill for 30 minutes
Roll the dough ½ inch thick and cut into 2/12 inch squares or be lazy like me and roll the dough into small balls and then flatten with a fork after you put them on an ungreased baking sheet
Bake 20 minutes or so, until the edges begin to brown
I am joining Ina Fridays this morning – to see what everyone else is contributing, please click on the links below:
dessert
Posted in
She Cooks
|
9 Comments »